Michael Lyons leads Air Force to 70-67 win over No. 22 San Diego State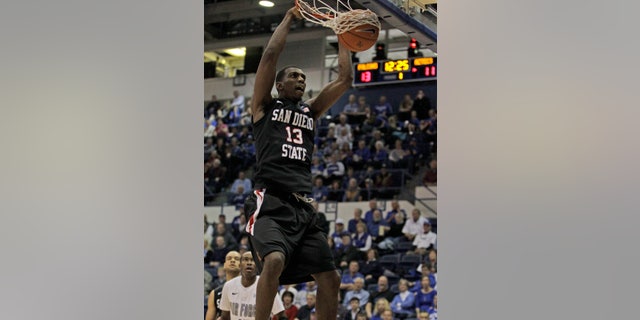 AIR FORCE ACADEMY, Colo. – Michael Lyons scored 20 points and Air Force beat No. 22 San Diego State 70-67 on Saturday, overcoming a 25-point performance by Aztecs star Jamaal Franklin.
Franklin and James Rahon missed potential game-tying 3-pointers in the waning seconds.
The Falcons (14-6, 5-2 Mountain West Conference) won their fifth straight at Clune Arena, while the Aztecs (16-5, 4-3) lost for only the second time in their last 10 games against Air Force.
The Falcons used a 19-2 run to take control at 59-47, then held on as Franklin scored 18 of his 25 points in the second half. He also pulled down 10 rebounds and was 11 for 12 from the foul line, his only miss a big one with less than a minute left and the Aztecs trailing by two.
___
Follow Arnie Melendrez Stapleton on Twitter: http://twitter.com/arniestapleton