Michael Johnson hoists Olympic torch at Stonehenge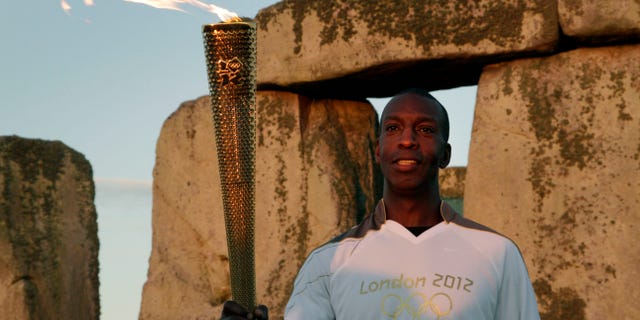 LONDON – For once, it wasn't raining at a key Olympic moment.
American track star Michael Johnson brought the Olympic flame to Stonehenge on Thursday, holding the torch aloft as the sun's rays ricocheted off the ancient stones.
Dressed in the white torchbearer tracksuit, the retired gold medalist ran a circuit of the monument before passing the flame to an athlete at the beginning of her sporting career -- Amelia Clifford. The 19-year-old won gold in the European junior championships last year in the 4-by-400 meter relay. She didn't get selected for the London Olympics, but will try again for the 2016 Olympics in Brazil.
The sparkling day was in sharp contrast to the recent weather in Britain, which slogged through its wettest June on record.