Michael Bisping says Vitor Belfort turned down the Anderson Silva fight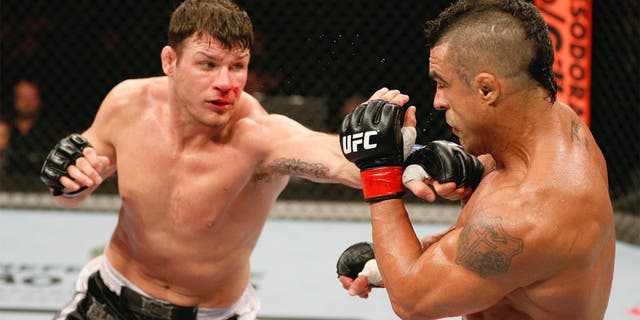 Michael Bisping didn't hesitate for a second when UFC president Dana White called him recently to offer him a fight against Anderson Silva, but he says he wasn't the first person asked to accept the challenge against the former 10-time defending champion.
During a media conference call on Tuesday, Bisping claims that the UFC originally offered the Silva fight to former middleweight title contender Vitor Belfort, who he says declined to take the matchup.
"Vitor Belfort turned the fight down," Bisping responded when asked about who declined the fight with Silva ahead of him. "There you go."
There were rumors for several weeks that Silva and Belfort were potentially set for a rematch at an upcoming UFC card in 2016. Silva originally defeated Belfort in 2011 with one of the most stunning knockouts in UFC history.
According to Bisping, Belfort declined the rematch but the former "Ultimate Fighter" season 3 winner was more than happy to accept.
Fighting Silva has been something Bisping has requested for years and now he finally gets his chance to face the Brazilian legend in the Octagon.
"When Dana called me and said the opponent had changed from Gegard (Mousasi) to Anderson (Silva), I was thrilled. I always wanted to show the world that I could beat Anderson and I know I can and I get to do that in February," Bisping said.
"Dana just called and said there had been some discussions internally at the UFC and they decided to change things around and do I want to fight Anderson? Of course, I didn't even hesitate. I said yes immediately and that was that. All said and done. I'm a happy man."
In the current atmosphere of the UFC middleweight division, Bisping doesn't see a more promotable fight or bigger opportunity than facing Silva right now.
While it's not the title fight he desired when Silva was still champion, Bisping is happy to finally prove what he's been saying for years.
That he will beat Silva and put his name among the elite middleweight fighters of all time.
"For me obviously, Anderson is, he's a legend of the sport. He was a long time middleweight champion and he was a guy that I wanted to fight for a long time," Bisping said. "Of course, I wanted to fight him when he was the champion but this really for me is the biggest fight outside of a world title fight right now.
"Anderson is still a massive name. He's still a huge draw. I have a lot of respect for him as a fighter. I always wanted to test myself against him, I always knew I could beat him. For me, I'm very, very excited about this fight."