Michael Bisping losing hope in Georges St-Pierre fight after latest conversation with Dana White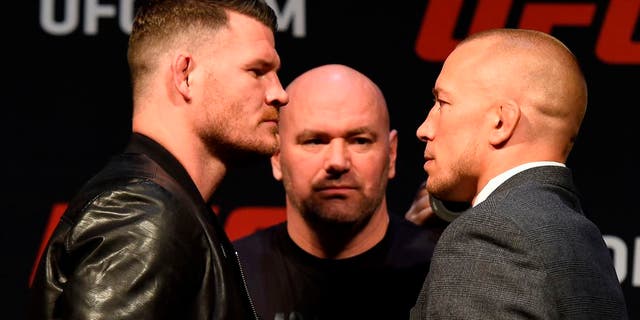 NEWYou can now listen to Fox News articles!
Middleweight champion Michael Bisping received a call from UFC president Dana White recently to make an offer to him, but it wasn't for the fight against Georges St-Pierre.
Instead, Bisping says it was a clandestine offer that he can't reveal just yet, but it wasn't about the fight with St-Pierre, who has been teasing his return to action throughout 2017.
Bisping couldn't reveal the nature of the offer other than to say it wasn't another fight, but the bulk of the conversation was spent finding out that White seems certain that he won't get the opportunity to face St-Pierre after all.
WARNING EXPLICIT LANGUAGE
Bisping has been clamoring for the chance to face St-Pierre since the matchup was first rumored last year and then in March the UFC held a press conference to announce the matchup for later in 2017.
Unfortunately, St-Pierre was dealing with an eye injury that would keep him out of action until at least November while Bisping was also facing a lengthy layoff while hampered with lingering problems from knee surgery.
Now it appears White is shooting down the on again, off again fight while Bisping is still holding out a sliver of hope that the bout with St-Pierre can still come together.
The back and forth exchanges between the fighters and the promotion still haven't given any clear signs of what exactly will happen when St-Pierre makes his return later this year.
From the sound of things, White is convinced St-Pierre won't be fighting Bisping, but the middleweight champion still making his case for it to happen.
"Dana said if we can make the GSP fight, we will," Bisping said. "In his opinion, GSP doesn't want to fight. He feels he's just [expletive] wasted everybody's time."
Per Haljestam | Per Haljestam-USA TODAY Sports