Michael Bisping explains why Robert Whittaker deserves title shot over 'scumbag' Yoel Romero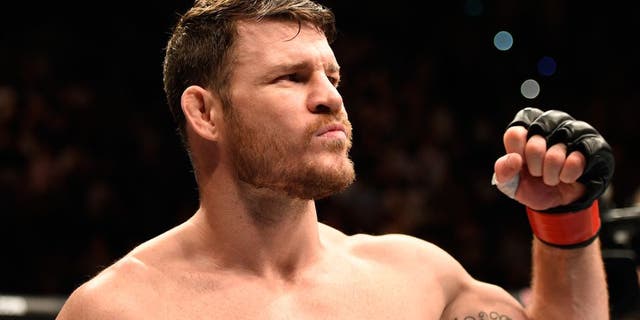 NEWYou can now listen to Fox News articles!
Middleweight champion Michael Bisping has long stated that he has no problem facing the top contenders in his division and now he believes Robert Whittaker should sit atop that list of potential opponents for him.
Bisping is already scheduled for his next fight against former welterweight king Georges St-Pierre later this year, but once that bout is wrapped up he's got eyes on Whittaker after he finished Ronaldo "Jacare" Souza last weekend in Kansas City.
The victory over Souza moved Whittaker to 7-0 as a middleweight, which Bisping respects as champion, but more importantly it also gives him a chance to stick it to Yoel Romero, who has been considered the de facto No. 1 contender for the past six months.
"I've got no qualms fighting Robert Whittaker. Let's just make that abundantly clear right now because some website said 'oh Bisping hasn't responded'. Yeah because I'm out in Thailand working. My life doesn't revolve around responding to Robert Whittaker," Bisping said on his "Believe You Me" podcast when responding to Whittaker asking to fight him.
"I'm responding right now cause Yoel Romero's a dirty, lying, cheating scumbag. If you want to do Whittaker after I've beaten GSP, we can. If not I'll do Romero, whatever. I see Robert as a more worthy contender. He stopped "Jacare". Romero didn't stop "Jacare" and Robert hasn't tested positive for steroids. So really I think it should be Robert next."
WARNING EXPLICIT LANGUAGE
Bisping has engaged in a public war of words with Romero for months, but the heat between the two fighters has really turned up recently after St-Pierre was granted a title shot ahead of the former Olympic silver medalist.
Romero has bashed Bisping numerous times for ducking a fight with him and the middleweight champion has consistently fired back at him through interviews, podcasts and social media.
His latest jab might be the toughest for Romero considering Bisping is now pushing for Whittaker to get the next shot at the title assuming he gets past St-Pierre when they meet later this year.
"Let's officially now start the campaign that after I beat GSP, it should be Robert Whittaker. Robert Whittaker vs. Michael Bisping," Bisping declared. "Because all right, maybe there's a case he's the most worthy contender but more importantly just to [expletive] with Yoel Romero.
"Ok admittedly, way better matchup for me stylistically, but facts are facts. I think he should be the No. 1 contender."
Zuffa LLC via Getty Images
Bisping also had a parting shot for "Jacare", who has also taken aim at the middleweight champion in the past for allegedly avoiding fights with the top contenders in the division.
A win over Whittaker would have undoubtedly put Souza a breath away from a title shot, but now after a devastating TKO loss he's back in the middle of the pack amongst several other contenders including former champion Luke Rockhold.
"Jacare", that guy has had a chip on his shoulder, been talking a lot of smack about me for a long time now. That [expletive] disgusting looking [expletive] that he is," Bisping said. "He's the ever-shrinking man. He's certainly gotten smaller. We see his performances getting weaker and weaker. Robert Whittaker looked great, the kid is fire, the kid's doing well. Nothing but praise for Robert Whittaker there. Good footwork, decent takedown defense, we've seen him knock people out before and of course he got the job done.
"Seven wins in a row [for Whittaker] and he's doing good and he's knocking out some people as well. He looked great against "Jacare". I never thought "Jacare" was that good to be honest anyway. If "Jacare" can't take you down, he's [expletive]. His stand up is terrible."
Bisping's matchmaking aside, he's still awaiting word on his fight with St-Pierre, which is now likely to take place in the latter half of 2017 in either late summer or early fall as he looks to defend his title for the second time.