Michael Bisping explains why he's fighting Dan Henderson next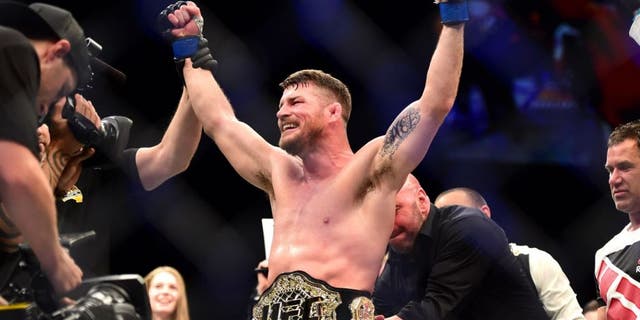 NEWYou can now listen to Fox News articles!
Michael Bisping will get his wish when he faces Dan Henderson for his first middleweight title defense at a bout that's currently being rumored for October. But Bisping's choice of opponent has ruffled the feathers of quite a few other fighters in the division.
Former champions Luke Rockhold and Chris Weidman have already voiced their complaints, and Ronaldo "Jacare" Souza has recently accused Bisping of running away from a tough matchup to instead face a 45-year-old veteran, who has gone 2-3 over his past five fights.
Bisping doesn't really feel the need to justify the rematch with Henderson other than reminding everyone about what happened the last time he met the grizzled veteran.
"The 'easy' fight from the guy that knocked me out in 2009, which is the most memorable knockout in UFC history," Bisping said during the UFC Fight Night broadcast on FS1 on Wednesday night. "The knockout of which is still emblazoned on Dan Henderson's shorts and banners and everything. Every time I go on Twitter and somebody wants to talk trash, they send an image of me laid unconscious."
"Why did I choose a rematch for this fight? I don't get it, I don't understand. Why would I want to avenge the most devastating knockout in UFC history? I just don't know why I would do that."
Bisping's sarcasm aside, he also knows that Henderson has stated that he would be willing to fight him in a rematch and then retire so this might be his only shot at vengeance.
Any of his other potential opponents would certainly like to avenge their past losses and that's all Bisping is trying to do before Henderson is gone for good.
"Chris Weidman, Luke Rockhold, Jacare -- they're going nowhere," Bisping said. "Dan Henderson is on the verge of retiring.
"He said one more fight so Dan Henderson put your big-boy pants on, fly over to Manchester and I'll see you in the Octagon, my friend."
The UFC hasn't made the fight official, but rumors have indicated the rematch will be in Manchester, England, as part of a card tentatively planned for October.
Meanwhile, the other three contenders who were previously mentioned are still waiting for potential matchups while waiting for Bisping to settle the score with Henderson.