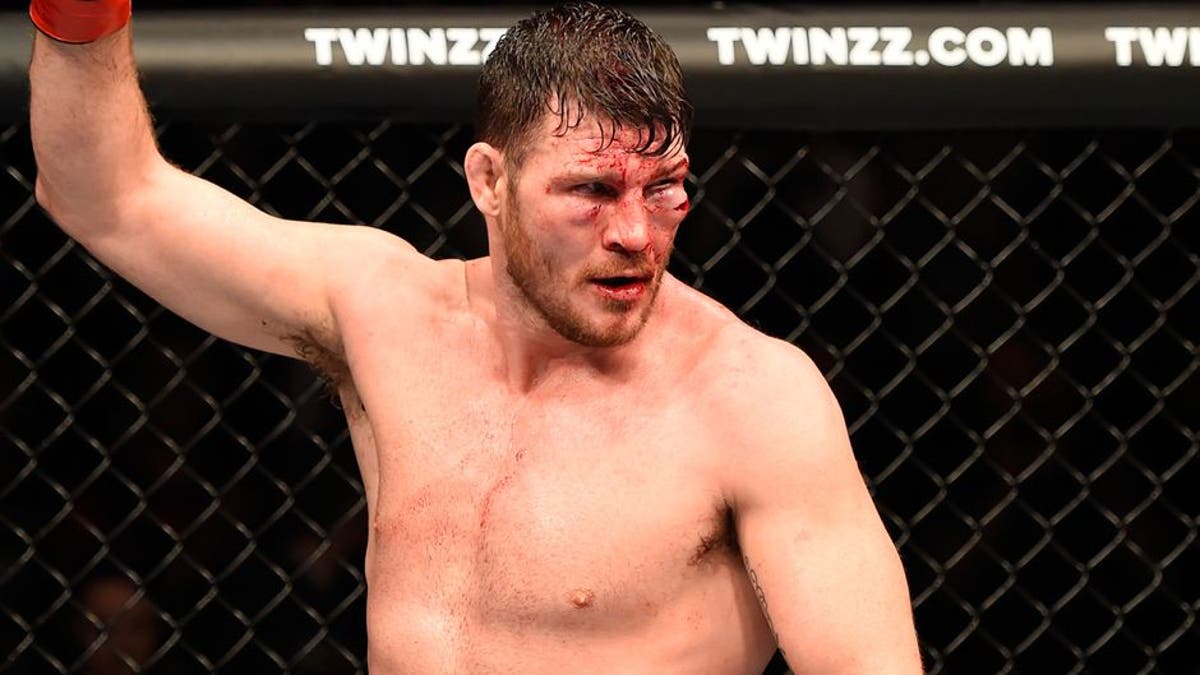 Michael Bisping was supposed to be getting ready for the biggest fight of his career later this year against Georges St-Pierre but instead he's sitting on the sidelines nursing an ailing knee while the UFC appears ready to pull the trigger on an interim middleweight title fight.
After appearing at a press conference to announce his fight with St-Pierre back in March, Bisping lamented the long delays that were seemingly keeping the fight from actually getting a scheduled date.
Just recently, St-Pierre announced that he would be ready after October, which prompted UFC president Dana White to declare he was no longer getting a title shot against Bisping later this year. Since that time, Bisping revealed that his injured knee still hasn't healed and he wouldn't likely be ready to return until the latter half of 2017 just like St-Pierre.
While he's still waiting for a chance to speak go White about everything that's been happening, it certainly sounds like Bisping believes the fight with St-Pierre is no longer on the table.
"I know they're trying to move on from the GSP fight. From my understanding, it looks like the GSP fight isn't happening. I've yet to have a discussion with them about this," Bisping said on his "Believe You Me" podcast this week. "From my understanding, Georges still wants to fight me and I still want to fight Georges.
"Now they're saying they want to do a fight in July and I said my knee isn't going to be ready in July. He's not going to be ready until October, November so for me that plays perfectly but I know the UFC wants me to fight and they're saying if I can't fight, they're going to do an interim title fight."
WARNING EXPLICIT LANGUAGE
White has mentioned the possibility of introducing an interim title in the wake of Bisping's absence, especially if he's unable to defend the belt until later this year. Bisping hasn't fought since last October when he defeated Dan Henderson and since that time he's been gearing up for the fight with St-Pierre that apparently is no longer happening.
With Bisping out, the UFC would most likely move in the direction to matchup No. 1 ranked contender Yoel Romero against streaking middleweight knockout artist Robert Whittaker, who is fresh off a win over Ronaldo "Jacare" Souza in his last fight.
Bisping doesn't seem to mind the idea of an interim title being introduced if he's unable to compete, but he's sick and tired of hearing about how he's running away from Romero because he promises that simply isn't true.
"I can't fight in July, that's only around the corner. I can't even run," Bisping said. "Everybody on social media 'stop running from Yoel [Romero]'. I'm not running. I can't [expletive] run from everybody. If I could run from Yoel, that would be a [expletive] start. At the moment, I've got to hobble away on one [expletive] leg going 'leave me alone! Dont get me! I've only got one leg!'. I can't run. I certainly can't do a [expletive] training camp.
Obviously, Bisping has a vested interest in the winner of that fight because if he's not facing St-Pierre later this year than a matchup between Romero and Whittaker would likely determine his next opponent.
Of course, Bisping still has no love lost for Romero, who he's engaged in a war of words ever since the Cuban born middleweight was declared the No. 1 contender last November. As for Whittaker, Bisping has nothing but good things to say about the 26-year old from New Zealand so it sounds like the champion will definitely be rooting for him to win.
"Whittaker, he's on an absolute tear. I've got nothing against Whittaker. Fine young man, great fighter, fights hard, got a lot of respect for him. Can't say the same thing about Yoel," Bisping said. "Yoel is certainly not on my Christmas card list. We all know my thoughts on him. He's a scumbag, he's a cheat and that's about that.
"So if they do fight, I'll be hoping that Whittaker beats the brains out of him and then I'll beat Whittaker soundly."
More than anything right now, Bisping just wants to have the chance to hash things out with White to determine whether or not he's going to get the St-Pierre fight or if he needs to realign his expectations for the future.
Admittedly, Bisping says he still hasn't spoken to White while he's been traveling to Thailand and then his native England, which unfortunately has happened at the exact same time while the fight with St-Pierre has seemingly been pulled away from him.
"I've got to speak to Dana yet so I've got to limit what I can say out of respect," Bisping said. "I've got to be respectful to Dana because we haven't spoken yet."