Michael Bisping blown away by Anderson Silva's 'arrogance' after positive drug test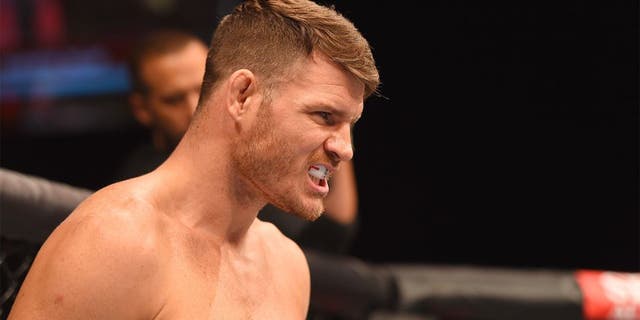 Michael Bisping has fought more than his fair share of opponents who have used performance-enhancing drugs, and he wasn't about to let Anderson Silva off the hook following his one-year suspension for two positive tests stemming from his most recent bout against Nick Diaz at UFC 183.
Bisping already took a shot at Silva on Twitter after their fight was announced, but he addressed his UFC Fight Night in London opponent directly during a media conference call Tuesday.
Following a reference by Silva, who stated he was going after his "dream," Bisping teed off and blasted the former middleweight champion for his drug-testing scandal that resulted in his suspension from fighting.
"We're all chasing a dream. All fighters have a dream, a dream of being a champion. You've got to do it through hard work and determination. The fact of the matter is Anderson Silva tested positive for not one, not two, but three banned substances inside his body," Bisping said. "While I respect him as a fighter, I've got to say I lost a lot of respect for him for that. This fight represents me beating all of these people that want to cheat the system. I've never taken a performance-enhancing drug in my life and anybody that does should be ashamed.
"To call yourself a martial artist but to take performance enhancing drugs is the biggest contradiction you could ever make. To be honest, he should be ashamed of himself and I feel this should be talked about more. I want to be tested throughout my camp. Come and take my blood right now. You can get me to pee in a cup every day in this fight camp, and I hope that happens, and I hope Anderson is tested many times because he should be tested many times because he failed the test not once, not twice but three times."
Bisping says as soon as UFC president Dana White called to offer him the fight with Silva he accepted without hesitation, but that answer came just months after the top-10 ranked middleweight said he was no longer interested in facing fighters who have a history using PEDs.
Bisping has fought a laundry list of opponents who have either tested positive for a banned substance or used something like testosterone replacement therapy (TRT), which was legal for several years, before the UFC and numerous athletic commissions banned the controversial treatment. As for Silva, he tested positive for Drostanolone and Androstane, two banned PEDs.
"Initially, a while ago I did say to myself 'I'm sick of this, I'm over it.' I'm over fighting all these people that have an unfair advantage in their recovery, in their training, I'm really sick of it and I've fallen foul to it several times now with Vitor (Belfort), with Chael (Sonnen), with Dan Henderson and the list goes on. I thought if anybody has a history with performance enhancing drugs, then I'm not going to fight them. There's plenty of other people," Bisping stated.
"But then when I started hearing the rumors about the Anderson Silva fight I started to think about it. Would I take it or wouldn't I? I've got to say, regardless of what happened, he's still Anderson Silva. It is a bucket list fight. It is certainly somebody that I always wanted to face. For that reason I'm willing to forgo that and we will meet in February."
Bisping has been pleased with the results he's seen out of the current drug testing agenda launched in July, when the UFC partnered with the United States Anti-Doping Agency for a comprehensive program that would test athletes year round, both in and out of competition.
Still, Bisping says cheaters who want to cheat are going to keep on cheating, and it only shows their true character when they try to take an illegal advantage to get ahead.
"When you look at the fighters now, you are seeing a difference in physiques. That goes without saying. We have seen people test positive, but it's human nature. If these people are willing to cheat in the first place, they're going to try to continue to cheat. They're going to try to continue to manipulate the system," Bisping said.
"At the end of the day, if you take performance enhancing drugs you're a coward. Just because they're bring in advanced testing doesn't change the fact that you're still going to be a coward and you're still going to try and cheat the system. So yeah, people are still going to do it."
For his part, Silva defended his recent conviction by doubling down on his defense that he took a tainted sexual performance drug that resulted in a banned substance showing up when the Nevada State Athletic Commission tested him before and after the fight this past January.
Silva's attorneys explained his situation to the commission, but they didn't buy his defense and ultimately suspended the former champion for one year for his infraction. Silva isn't exactly raving about the defense he received at the hearing, and he stands by his claim that it was a tainted supplement that led to the positive test and that he's never knowingly attempted to cheat in his career.
"I'm ready to be tested anytime. You guys can test me as much as you guys like. I committed an error, I'm definitely not a saint. I committed an error," Silva said. "I took a substance that was contaminated and unfortunately the people that were representing me, the attorneys, the specialists they looked like clowns up there and they weren't able to prove what really happened. Once again for me to expose things that were going on in my personal life was a difficult thing to do and that's why I exposed it to prove my innocence. But now I'm paying for what I've done and I'm motivated to go back in there and put this all behind me.
"I don't have anything to really respond back to him. Basically what it boils down to is I took a supplement that was contaminated. Inside the Octagon there's no way to really lie in this sport. I've been fighting my whole career, I've never tested positive, my conscience is clear. I've never purposefully took any sort of banned substances. I made an error by taking a substance that was contaminated but conscience is clean and I know that I've never cheated. At the end of the day, in this sport, whoever is best prepared is going to show that night. I don't really have nothing else to respond to Michael about this."
Bisping has no problem talking about the drug-test results, however, and he will continue to do so throughout the lead up to the fight because he believes it's something that has to be discussed now that Silva's name has been added to the growing list of fighters who have been busted for using banned substances.
"It's something that I'm quite emotional about because it just blows my mind. Anderson said something about trash talking, this and that because I made a reference to Viagra on social media, and to be quite frank I'm blown away by his arrogance," Bisping said. "How on Earth do you expect me not to mention that in your last fight, you tested positive for three banned substances? You expect me not to mention that?
"That is very, very, very relevant. So of course I want him to be tested and you can test me, but the fact that he wants me to not mention that and brush that under the carpet to be quite frank, I'm blown away by his arrogance."