Michael Bennett says Seahawks cant win a game without Russell Wilson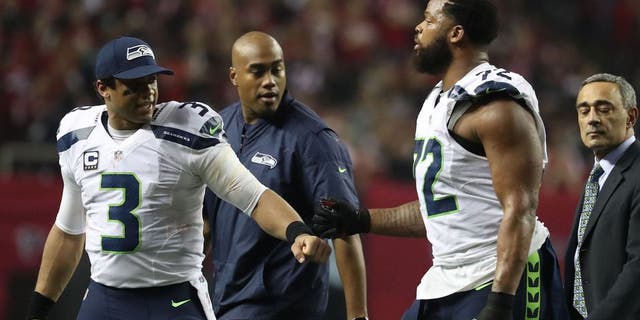 NEWYou can now listen to Fox News articles!
The Seattle Seahawks have been one of the best teams in the league since Russell Wilson took over as the starter in 2012, making the playoffs in each of the past five years with two Super Bowl appearances. Yet, despite as good as he (and the team) has been in that span, there still seems to be some animosity in the locker room.
A recent article from ESPN, which detailed the turmoil inside the walls of the Seahawks building, mentioned an instance in which Richard Sherman called out Wilson in practice. His teammates came to his defense and said theres no bad blood between him and the defense despite rumors that hes treated differently by Pete Carroll.
The high praise for Wilson continued this week at minicamp with Michael Bennett making a bold statement.
"On a team with competitive people, there are going to be issues that are going to happen," Bennett said on 710 ESPN Seattle's "Brock and Salk" show. "There's just a lot of alpha males running around, but everybody supports Russell Wilson. We can't win a game without Russell Wilson. Russell Wilson is a top-five quarterback in the NFL. We cannot win a game without a guy like that."
Getty Images
Wilson hasnt missed a game in five years, so its impossible to determine whether Bennetts claim is true. However, theres absolutely no doubt the Seahawks would be a vastly different team without him, and likely wouldnt have made the playoffs every year since 2012 with one Super Bowl win.
He was a huge part of the teams success maybe more so than any other individual player and was one completion (or Marshawn Lynch carry) away from winning back-to-back Super Bowls.
Bennett went on to call Wilson a great player and a great person of great character, proving he has no issue with the Seahawks quarterback. After all, its hard to dislike a player of Wilsons caliber after making the Pro Bowl three times in five years.