Michael Bennett rips Falcons lineman for cut block: 'You're a little [expletive]'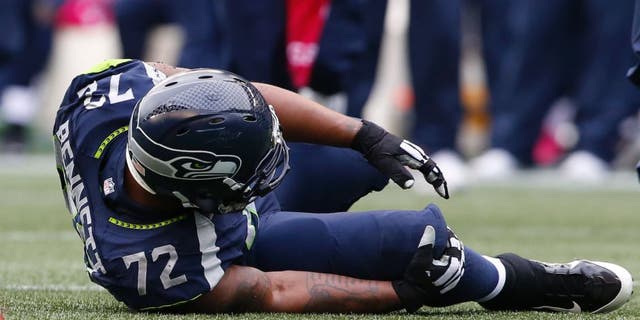 The Seattle Seahawks escaped with a controversial victory over the Atlanta Falcons thanks to a late-game no-call from the officials on fourth down, but not all was well and good after Sunday's win.
Seahawks defensive end Michael Bennett had to leave the game with just over six minutes left in the third quarter after Falcons tackle Jake Matthews cut blocked him, causing his knee to bend awkwardly. Bennett never returned to the game, but believes he "should be able to play next week."
However, that's not all the outspoken defender had to say about the play. He was far from pleased with Matthews' actions.
"To me it's a scary, [expletive] move. Honestly, I think if you dive at someone else's legs, you're a little [expletive]," Bennett said, via the Seattle Times. If you are big in the NFL, you just line up and play -- why you got to cut someone on the [expletive] play? I mean, I don't know. That [expletive] is just stupid to me. Why cut somebody when you can just line up and win? I don't know. I don't come off the ball jumping at offensive linemen's legs."
Here's the play in question, where you can see Matthews on the left side of the line dive at Bennett's legs. It left him writhing in pain on the turf before he was helped off by the training staff.
"He just dove at my knee,'' Bennett said. "I mean, that's the second week someone tried to take me out, man. I don't know."
Bennett appears to have escaped without a major knee injury, but that won't calm him down any. He seems to believe he'll be good to go for Week 7 against the Cardinals, but he'll likely undergo some tests this week.