Mic'd up Julian Edelman wasn't so sure Patriots' Super Bowl-winning TD counted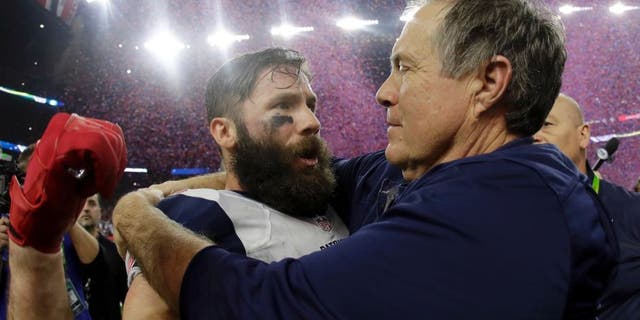 NEWYou can now listen to Fox News articles!
The New England Patriots won their fifth Super Bowl title on Sunday night, so the feeling of being on top of the world is a familiar one for most players on the roster. Yet, no matter how many times they win it all, their reactions are still priceless.
When James White snuck into the end zone from 2 yards out in overtime to cap off the Patriots' remarkable comeback, the confetti began to fly and players stormed the field. One guy, however, wasn't ready to celebrate just yet. Julian Edelman wasn't sold White got in and didn't want to prematurely bask in the glory of victory.
He was mic'd up for the game, and his reaction to the touchdown was must-watch.
"Get out of the way. Get the [expletive] off the field. It's not over. It's not over. Get the [expletive] off the field."
At this point, a smiling Bill Belichick came over and gave Edelman a hug. He also shared the good news that the touchdown was confirmed and the game was over.
Edelman would have never been able to celebrate another Super Bowl title if not for his incredible juggling catch in the fourth quarter. He was also mic'd up for that play, which was equally great.
Edelman is as passionate as they come, and these two videos prove that.