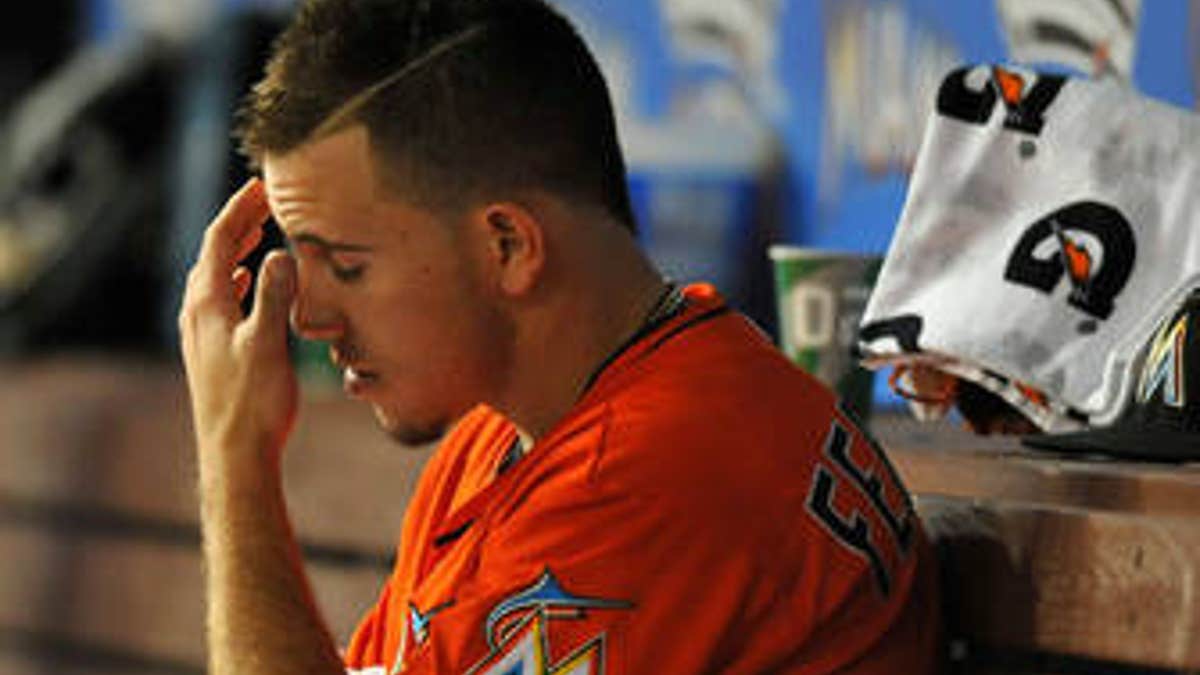 Why was Miami rookie Jose Fernandez embarrassed?
Fernandez just concluded a phenomenal rookie season, beating the Atlanta Braves 5-2 with seven innings of five-hit, one-run ball in Miami on Wednesday night.
But Fernandez said he was embarrassed?
Wait. It gets better.
The 21-year-old Fernandez (12-6, 2.19 ERA), one of the top candidates for the NL Rookie of the Year award, not only beat the first-place Braves, he hit his first major league home run in the win.
Yet, he was embarrassed?
This is why -- from admiring his long drive (watch the replay) to spitting at third base during his home run trot to what occurs when he reaches home plate.
Your browser does not support iframes.
Fernandez, second to Clayton Kershaw's 1.92 in NL ERA, was making his final start of the season as the Marlins opted to shut down the 2011 first-round pick after he reached 170 innings. He entered Wednesday's start with 165 2/3 innings.
Before homering, Fernandez was cruising against the Braves. But to lead off the sixth inning, Atlanta's Evan Gattis hit a towering solo blast.
Fernandez responded with a grin, which the Braves didn't seem to appreciate. After retiring the next three batters to end the inning, Fernandez, who finished 9-0 at home this season, stared and muttered at the visiting dugout before waving his arms as if he was disgusted.
"Somebody hits off him and he smiles," Atlanta starting pitcher Mike Minor told the Associated Press after the game. "It seems like you're not supposed to get a hit off of him."
When Fernandez homered off Minor with two outs in the bottom of the sixth, the rookie admired his blast before starting a slow trot around the bases. When he rounded third, Atlanta third baseman Chris Johnson said something to Fernandez, who spat in front of the base.
"He stood for a while, and that's disrespectful," Johnson told The AP. "That's bad."
Well, hey, he's only 21; He was pitching his final game of the season and he hit his first major league homer. But at least from his postgame comments (top video), he obviously realized his mistake.
Major League Baseball -- and the Miami Marlins -- are fortunate to have a guy like Jose Fernandez in the game.