Miami wide receiver Mike Wallace looking to be more productive, help spark Dolphins' offense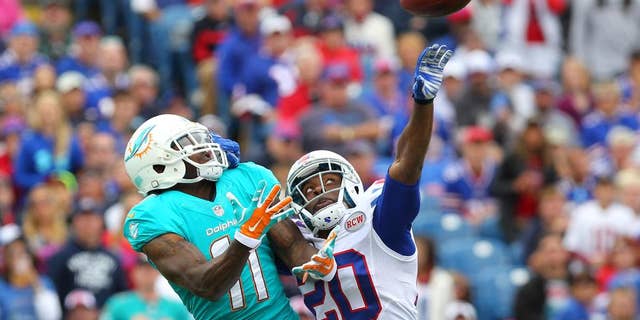 DAVIE, Fla. – Wide receiver Mike Wallace concedes that he needs to have better production in a sputtering Dolphins offense, even though he has been more involved and is being utilized in more ways than last season.
Wallace is the team's leading receiver with 17 receptions for 211 yards and two touchdowns through the first three games, but he and quarterback Ryan Tannehill have yet to connect on a deep ball. His 30-yard catch last week against Kansas City came on a crossing route.
"I feel pretty good but obviously we could be better because we are 1-2," said Wallace, who caught 12 passes for 152 yards and one touchdown last season through three games. "Everybody's performance could be better including mine."
Miami leaves Thursday for London in advance of its game against the Oakland Raiders and head coach Joe Philbin remains non-committal on whether or not Tannehill still is his starting quarterback. But wide receiver Rishard Matthews told The Associated Press that Tannehill has been taking all of the snaps with the first team in practice and he feels pretty confident Tannehill will start against the Raiders.
There hasn't been a noticeable drop in confidence from Tannehill, at least not according to some of his teammates. Matthews described him as a vocal leader in practice and in the huddle during games and Wallace has made a similar observation.
"I think he's fine," Wallace said. "Since I've been here I've never seen Ryan, good, bad or indifferent, act any different at the end of any game. He's been the same as when I first met him and I have enough to worry about with my own position and trying to do well. I can't worry about what coach is going to do. Whoever coach puts out there that's who we're going to roll with and we're going to be behind him 100 percent no matter who it is, even if it's me at quarterback."
It hasn't been for a lack of trying that Wallace and Tannehill haven't been able to come up with more big plays, with new offensive coordinator Bill Lazor even breaking out a double reverse that Wallace turned into a 12-yard gain against the Chiefs. He has lined up in the slot, wide to the left and right and come in motion numerous times, yet Miami ranks last in the league in the category that Lazor calls the most important — yards per attempt — at 5.03.
Wallace's two touchdown catches have been memorable, with his first coming in the Dolphins' 33-20 upset of the New England Patriots in the season opener from 14 yards when he wrestled the ball away from Darrelle Revis. The following week he made a one-handed grab in the left corner of the end zone at the Buffalo Bills in a 29-10 loss.
Philbin said he has seen significant improvement in Wallace's play.
"I think his play speed is better this year so far and he's playing faster," Philbin said. "I think he's more comfortable just being a Miami Dolphin, forget about the offense, forget about where he's lining up or motion or what routes he's running. I just think compared to 12 months ago he feels better about where he is on the Miami Dolphins, period."
As comfortable as Wallace seems, he knows how important this next game is and how vital it is that he find a way to become that deep threat he was brought here to be. Big plays are what he wants to produce more of for his team.
"Everybody wants to be involved in the offense and it's a lot more fun when you're involved," said Wallace, who was among the league leaders in average yards per catch during his first four seasons with the Pittsburgh Steelers at 17.5. "I want to be more productive. I don't want to just be in the offense catching passes, I want to do something with the passes when I do catch them."
___
Online:
AP NFL website: www.pro32.ap.org and www.twitter.com/AP_NFL