Miami Marlins suspend manager Ozzie Guillen for pro-Castro comments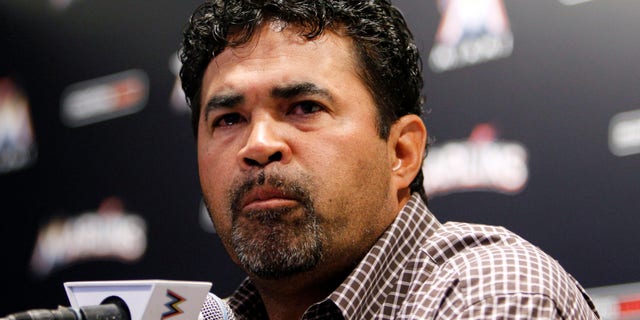 Manager Ozzie Guillen has been suspended for five games for comments he made in support of Cuban dictator Fidel Castro, the Miami Marlins announced Tuesday.
"The pain and suffering caused by Fidel Castro cannot be minimized, especially in a community filled with victims of the dictatorship," the team said in a statement just prior to Guillen's scheduled press conference.
Guillen, 48, who began the press conference by speaking in Spanish, said he was "very embarrassed" by his comments and apologized several times. He claimed a reporter misinterpreted his comments and said he does not love or admire Castro.
The suspension will begin immediately. Guillen left the Marlins in Philadelphia and flew to Miami to apologize at the team's new ballpark.
"It's a very sad situation because the ball club is playing pretty good baseball right now," Guillen said. "It's very important for me to be with the club, but the decision has been made and I respect the decision. I cannot complaint about anything because right now I'm not in a position to complain."
Guillen told Time magazine he loves Castro and respects him for staying in power so long. Prior to Monday's game, Guillen said he has suffered sleepless nights because of the comments and wanted to make an apology.
"I'm going to make everything clear what's going on," he said. "People can see me and talk. I've already talked to people. But I think it's the proper thing to see my eyes. They can see me and ask whatever question they want. I think sooner is better. Better for the ballclub, better for me."
Guillen apologized over the weekend after the story broke, but some Cuban Americans remained upset. At least two local officials said Guillen should lose his job, and the chairman of the Florida Hispanic Legislative Caucus called for "punitive measures" against him on Monday.
Guillen, who is no stranger to controversy, was fined an undisclosed sum by Major League Baseball in 2006 for using a gay slur in reference to former Chicago Sun-Times sportswriter Jay Mariotti. In response to Guillen's suspension, Mariotti -- who pleaded no contest to stalking and assaulting his girlfriend last year -- told FoxNews.com the suspension was a "slap on the wrist" and would not deter Guillen from misspeaking again.
"This is a man who seems to make very volatile comments and seems to be slapped on the wrist quite a bit," Mariotti told FoxNews.com by phone from Los Angeles. "Who is this guy to talk about Fidel Castro? If he wants a talk show, quit the managing job. I'm afraid this is going to have a bad ending for him."
Asked what would have been a fitting punishment for Guillen, Mariotti responded: "This should have been a month, at least."
Guillen has also twice appeared on a radio show with Venezuelan President Hugo Chavez in October 2005.
"Not too many people like the president," Chavez said at the time. "I do."
Guillen, a rangy shortshop during his career who later managed the Chicago White Sox before joining Miami for the 2012 season, said he intends to stay with the Marlins.
"I expect to be here a long time," he said. "I live in Miami … I am willing to do everything to try and make it better."
Guillen joins former Braves pitcher John Rocker, late Reds owner Marge Schott and former Dodgers general manager Al Campanis as the only Major League Baseball figures disciplined for non-baseball-related comments.
Commissioner Bud Selig suspended Rocker in 2000 for 73 days for harsh comments he made toward several groups of society in a Sports Illustrated article. Schott, who died in 2004, was suspended from her day-to-day oversight of the Cincinnati Reds by baseball leadership following uproar related to racial and ethnic slurs she made in reference to players and business associates. Campanis resigned under widespread pressure from the Los Angeles media in 1987 after comments he made about African-Americans.
Selig, meanwhile, said he supported the decision to suspend Guillen.
"As I have often said, baseball is a social institution with important social responsibilities," Selig said in a statement. "All of our 30 clubs play significant roles within their local communities, and I expect those who represent Major League Baseball to act with the kind of respect and sensitivity that the game's many cultures deserve."
The Associated Press contributed to this report.