Miami Marlins season review: What went wrong? What went right?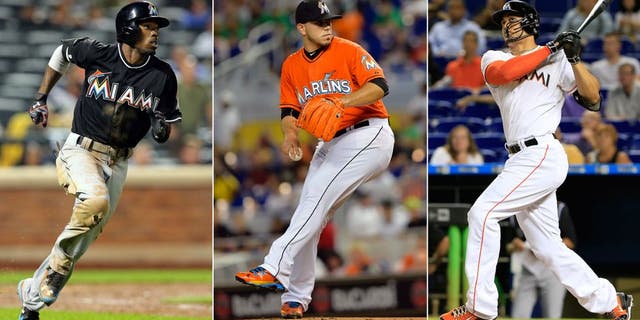 NEWYou can now listen to Fox News articles!
The Miami Marlins entered 2015 with aspirations of October baseball. They got their wish, but only because the season didn't end until Sunday in Philadelphia.
Despite high-profile trades and free-agent signings, things took a dark turn once the honeymoon of spring training ended.
It all began, one could say, when the Marlins Park roof remained open following the flyover on Opening Day. Rain forced a delay. When the game continued, Dee Gordon tripped exiting the batter's box on a perfectly executed bunt. Miami would go on to be swept by the rebuilding Atlanta Braves.
After an entire month of health while in Jupiter, Florida, the injury bug bit Miami -- and hard. Every starter in the Opening Day lineup except center fielder Marcell Ozuna and catcher Jarrod Saltalamacchia landed on the disabled list at least once this season.
But Ozuna spent more than a month in Triple-A New Orleans due to a prolonged slump, while the Marlins designated Saltalamacchia for assignment before May. Rookie JT Reamuto, the backstop of the future, got thrust into the everyday role.
By May 17, Miami had enough of the underperformance, making the controversial move of firing manager Mike Redmond and turning to general manager Dan Jennings. He last coached high school baseball in the 1980s.
All-Star slugger Giancarlo Stanton, who led the majors with 27 homers and 67 RBI through 74 games, didn't play after undergoing surgery on a left hamate fracture on June 28. It spoiled a possible MVP campaign and greatly impacted a team desperate for power.
Christian Yelich, who spent two stints on the DL, overcame a .178 average on May 23 to finish at .300 for the season. Rookie Justin Bour took advantage of an opportunity by belting 23 homers (third most among National League rookies) and recording a team-high 73 RBI. He will likely enter spring as the left-handed hitting first baseman.
Future Hall of Famer Ichiro Suzuki got to 65 hits away from 3,000. Dee Gordon and Adeiny Hechavarria composed one of the best middle infields in baseball. Rookie southpaws Adam Conley and Justin Nicolino made cases for spots in the 2016 rotation.
The Marlins finished 20 games below .500 at 71-91. In a down year for the National League East, it was good enough for third place -- the first time the Marlins did that well since 2010. From Aug. 31 on, Miami finished with the third-best record (19-12) in baseball, auditioning for next season and playing for pride.
MOST VALUABLE PLAYER
Giancarlo Stanton
Before breaking a bone in his left wrist, Stanton was on pace for 59 dingers. Earlier in the season, he had become the ballclub's all-time leader in homers. In a MLB-wide initiative, the 25-year-old slugger was named a member of the Marlins Franchise Four. Stanton, who missed the final 17 games of a MVP runner-up 2014 because of a pitch to the face, was living up to his record-setting long-term deal. He even was voted in as an All-Star for the first time in his career. It's no secret the lineup looked different without Stanton in it. One already lacking power lost the biggest threat in the big leagues. Stanton still finished second in WAR amongst Marlins, per Baseball Reference.
How many guys could do this?
Your browser does not support iframes.
Or this?
Your browser does not support iframes.
BEST NEWCOMER
Dee Gordon
This one is a no brainer. Seven players saw action at second base for the Marlins in 2014. Miami lacked a prototypical leadoff batter. So the Marlins acquired the 2014 All-Star from the Los Angeles Dodgers. Gordon had a season for the ages, leading the NL in batting average (.333) and stolen bases (58) -- the first player to do so since Jackie Robinson in 1949. He also paced the majors in hits (205), joining Honus Wagner in 1908 as the only NL player to have the most hits and steals in baseball. Gordon, who quickly became a fan and clubhouse favorite, was voted in as a starter for the Midsummer Classic. Unfortunately, he couldn't participate because he dislocated his thumb sliding into first base a couple days before. Oh, and the accolades might not be done for the 27-year-old infielder. Per FanGraphs, Gordon should be the frontrunner for the Gold Glove at second base based on advanced metrics. He is also Miami's representative for the Roberto Clemente Award, given to the player that best exemplifies the on- and off-the-field work of the legendary ballplayer.
Exhibit A for speed:
Your browser does not support iframes.
Exhibit A for dee-fense:
Your browser does not support iframes.
MOST IMPROVED
Carter Capps (1-0, 1.16 ERA in 30 games)
Everyone knew flamethrower Carter Capps could throw fast. After all, the 25-year-old right-hander frequently flirts with triple digits thanks to a wonky delivery. The problem has always been command. Since trading Logan Morrison for him two winters ago, Capps failed to make an Opening Day roster. After a quick stint in mid-April, he returned to the majors for good by May 20. Until leaving his Aug. 2 outing against the San Diego Padres with a right elbow sprain, which would end his season, Capps put up impressive numbers. His 98.1 mph fastball velocity ranked third among relievers, according to FanGraphs. Capps' four runs allowed in 23 appearances before the All-Star break tied for the fewest in club history. He led all big-league bullpen arms with 56 strikeouts upon his recall, while recording one-plus strikeouts in 18 straight games to set a Marlins single-season record. Capps walked just seven batters in 31 innings with 18 hits and five runs permitted. Most importantly, he provided stability to the back-end of the bullpen when AJ Ramos took over closing duties for the struggling Steve Cishek, who ended up in St. Louis via a trade.
Your browser does not support iframes.
BIGGEST DISAPPOINTMENT
As much as the Gordon deal worked out, two other key winter acquisitions didn't do so well and departed together by the trade deadline.
First baseman Michael Morse, a hometown guy coming off the go-ahead RBI in Game 7 of the World Series, signed a two-year, $16 contract as a free agent. During spring training, he blasted a team-high five homers and 17 RBI. That soon changed. Like many of his teammates, Morse got off to a slow start and underachieved. Over 53 games, he hit just .213 with four doubles, four homers and 12 RBI. He went on the DL in late May with a right ring finger sprain and didn't return until the first week of July. By that time, Bour had supplanted him at first and Morse -- when he did crack the lineup -- saw time in the outfield.
Right-hander Mat Latos, coming off an injury-riddled 2014, didn't fare any better in that department or on the diamond for the Marlins. Miami sent right-hander Anthony DeSclafani and catching prospect Chad Wallach to the Cincinnati Reds in the hopes there would be flashes of the guy who had a 60-45 record and 3.34 ERA in six seasons. The 27-year-old righty came to spring training behind schedule after having his knee drained. Expected to be a veteran presence in the rotation, he instead found himself on the DL twice. He went 4-7 with a 4.48 ERA in 16 starts.
Both players wound up in Los Angeles as part of a 13-player, three-team trade. The Dodgers, who ate the rest of Morse's and Latos' contracts, would designate both for assignment. Morse is with the Pittsburgh Pirates, while Latos pitched twice for the Los Angeles Angels.
BEST MOMENT
A 94 mph fastball for a strike to San Francisco Giant Gregor Blanco. After nearly 14 months away from the mound, ace Jose Fernandez -- one of the top pitchers in baseball -- returned from Tommy John surgery to start a July 2 matinee game at Marlins Park. It was far from perfect, but Fernandez earned the win by allowing three runs on seven hits with six strikeouts over six frames. He also blasted a homer of his own. A right biceps strain found him back on the DL in mid-August, but the 23-year-old righty came back for the final three weeks of the season. He finished 6-1 with a 2.92 ERA in 11 starts. Fernandez also became the first pitcher since 1900 to open his career with 17 home wins without a loss. Having him back in the rotation gave the Marlins, who lost 2014 All-Star Henderson Alvarez to shoulder surgery, a guy the team expected to win every fifth day.
Your browser does not support iframes.
You can follow Christina De Nicola on Twitter @CDeNicola13 or email her at cdenicola13@gmail.com.