Miami Marlins at Seattle Mariners game preview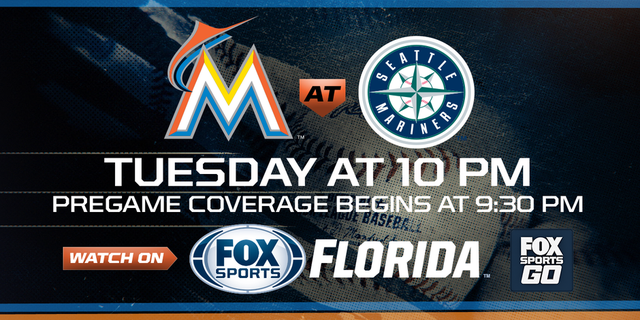 NEWYou can now listen to Fox News articles!
TV: FOX Sports Florida
TIME: Pregame coverage begins at 9:30 p.m.
SEATTLE -- While the offense is finding its stride, the Seattle Mariners are emerging from their early-season funk thanks to a pitching resurgence.
Mariners right-hander Yovani Gallardo (0-1, 6.30 ERA) will be tasked with continuing the rotation's dominance Tuesday when he opposes the Miami Marlins and left-hander Wei-Yin Chen (1-0, 7.00 ERA).
Ariel Miranda's seven shutout innings in Seattle's 6-1 win over Miami on Monday gave the Mariners three starts in four games of seven-plus innings and one run or fewer. The bullpen has allowed two runs in 12 1/3 innings (1.46 ERA), lowering its season ERA more than a run while helping Seattle to a four-game winning streak.
Thanks to the recent run, the Mariners' team ERA is down to a respectable 4.16, which ranks 10th in the American League.
Gallardo hasn't helped in that department. The 31-year-old veteran turned in a pair of five-inning starts to open the season, allowing four runs in a loss to the Los Angeles Angels on April 7 and three runs in a no-decision vs. the Houston Astros on Wednesday.
The Mariners handed Gallardo a 5-0 lead vs. Houston, but he walked three in the fourth inning, one of them with the bases loaded, to contribute to the Astros' comeback for a 10-5 win.
"Just lost command there for a couple hitters," Gallardo told The Seattle Times. "In that situation, something like that can't happen, especially when you're up five runs. Just definitely can't.
"I think early in the game I was attacking the strike zone, just being aggressive. And then just tried to be too perfect in that fourth inning, for some reason. It's frustrating. It's frustrating something like that can happen from one inning to the next."
Gallardo still might have a good chance to continue the Mariners' hot pitching -- at least against Miami. In nine career starts vs. the Marlins, he has lost only once and has a 1.90 ERA.
Despite the Marlins only getting four innings from starter Tom Koehler in the Monday loss, their bullpen should still be fairly fresh in the second game of the series. Miami received four innings from starter-turned-reliever Jose Urena to finish off the game, giving the rest of the bullpen a night off.
"Jose kind of saved us there," Marlins manager Don Mattingly said. "That's not what we're looking for to start the trip, but not having to use anybody else out there was about the only silver lining pretty much in the night."
Chen tossed six strong innings of one-run ball on April 7 to beat the New York Mets, but he lasted only three frames in a rematch six days later, allowing six runs on seven hits in a no-decision.
Chen has a history of success against the Mariners, going 3-3 with a 3.04 ERA in eight career starts, all during his time with the Baltimore Orioles from 2012-15. He is 2-1 with a 2.81 ERA in five starts at Safeco Field.
The Mariners wouldn't mind getting off to another start like the one they produced Monday, when Robinson Cano and Nelson Cruz hit back-to-back home runs in the first inning to produce a 3-0 lead.