Miami Marlins at San Diego Padres game preview (4/22/17)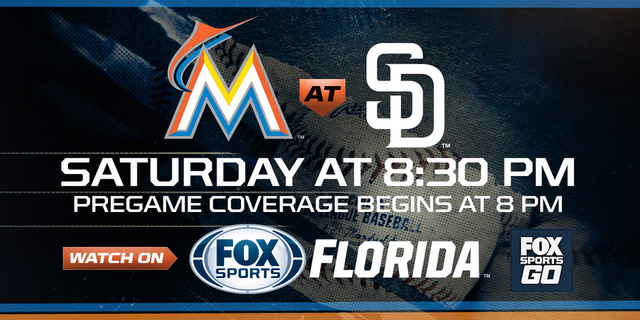 TV: FOX Sports Florida
TIME: Pregame coverage begins at 8 p.m.
SAN DIEGO -- It appears the San Diego Padres spent wisely during the offseason.
And one of their acquisitions is on display Saturday night against the Miami Marlins when Jered Weaver takes the mound.
Weaver (0-1, 4.24) will face off against Miami's Dan Straily (1-1, 4.61) as the Padres go for a fourth straight win.
Weaver is among the long-in-the-tooth starters the Padres signed to short-term, team-friendly deals. The former Angels ace came aboard in hopes of extending his career after going a combined 19-24 with a 4.86 ERA in the previous two seasons.
Although he does not have a win, Weaver has pitched decently. Weaver took the loss April 6 against the Dodgers but in his last starts, the right-hander has allowed four runs and 10 hits in 12 innings.
Trevor Cahill, who won Friday's opener, wanted to rekindle his role as a starter. After 49 appearances as a reliever with the Chicago Cubs last year, he's back starting and he scattered three hits in seven outstanding innings during Friday's 5-3 win.
Jhoulys Chacin struggled mightily with the Angels last year, being replaced in the rotation at one point. But he's showing good results with wins over the Giants' Madison Bumgarner and the Diamondbacks' Zack Greinke on his game logs.
Southpaw Clayton Richard returned to San Diego, his shoulder fit enough to spin 6 2/3 innings of one-run ball in Thursday's win over the Arizona Diamondbacks.
Padres manager Andy Green said the starters' price doesn't quite match the value when he looks at his rotation. Instead he sees money pitchers that are savvy enough to take advantage of Petco's nuances.
Weaver isn't the Weaver of old and everyone gets that. But when slotted in with others trying to prove there's still life in their arms, he's holding his own.
"When we went into the offseason, when we talked internally with the list of the names we were considering, these were the guys we wanted," Green said.
The interest was returned, with the veteran staff being the proof. On rebuilding team full of kids, projects, catchers turned into relievers and Rule 5 players, little of that is sprinkled among the starters.
"They are all throwing the ball well," Green said. "They've all bought in to what we are doing here.
"People might judge from the outside based on their salaries. But all those guys have an opportunity to do something special and lead the team back to relevance and to catapult themselves to another place in the future, maybe here with us."
Straily gets his first start, and appearance, against the Padres. The right-hander is coming off 10 1/3 innings in his last two starts in which he's allowed but two runs on three hits.
On Sunday, Straily pitched 5 1/3 hitless innings against the Mets. He might have pitched longer but gave up five walks.
"He's throwing the ball well," Marlins manager Don Mattingly said. "He's got a number of pitches and he changes speed, he competes. He can do things with a baseball to keep guys off balance, and that is really who he is as a pitcher. He's got to be able to work both sides, up and down, change speeds."
Straily will try to help the Marlins get their second win on a nine-game road trip. Giancarlo Stanton hit a two-run home run Friday but David Phelps gave up a mammoth three-run home run to Austin Hedges.