Miami Heat Trying To Stave Off Loss, San Antonio Spurs Championship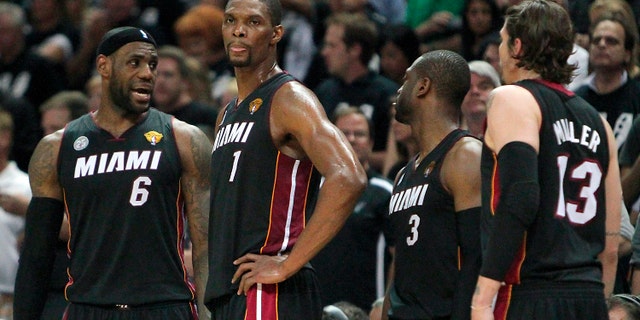 It feels a little bit like 2011.
This season LeBron and the boys lost three times in three months in one of the most overpowering stretches the NBA has ever seen.
Now the Miami Heat have lost three times in five games.
So superb during the regular season, LeBron James, Dwyane Wade and the Heat have to be something even more for the rest of the NBA Finals.
They have to be perfect.
"We look forward to the challenge," James said.
The San Antonio Spurs can finish Miami off Tuesday night in Game 6, reaffirming themselves as one of the league's greatest franchises.
If so, the Heat and their Big Three once again go from celebrated to devastated, just as they were two years ago when they came home from Texas facing this same predicament.
"We're going to see if we're a better team than we were our first year together," James said.
The Spurs took a 3-2 lead with their 114-104 victory Sunday night. Tim Duncan, Tony Parker and Manu Ginobili were all brilliant again, and Danny Green added to what could become one of the most out-of-nowhere finals MVP campaigns ever.
One more victory makes the Spurs 5-0 in the NBA Finals, keeping pace with Michael Jordan's 6-0 Chicago Bulls as the only teams to make it here multiple times and never lose.
"We understand Game 6 is huge," Parker said. "Obviously, you want to finish in the first opportunity you get. We understand that Miami is going to come out with a lot more energy, and they're going to play better at home. They're going to shoot the ball better. Their crowd is going to be behind them."
None of that mattered two years ago.
Clearly reeling and their psyches shaken after dropping two straight games in Dallas, the Heat were blitzed early in Game 6. They never recovered, Chris Bosh inconsolable as he made his way back to the locker room afterward while the Mavericks celebrated at center court.
James had to endure the criticisms that came with not getting it done in the finals, a story line that was put to rest last year but will be back again if the Heat don't manage to put together consecutive victories.
"We challenge ourselves to see if we're a better team than we were," Wade said. "Same position no matter how we got to it."
The Heat would also host Game 7 on Thursday. They're trying to join the 1988 and 2010 Los Angeles Lakers and 1994 Houston Rockets as the only teams to rally from 3-2 down by winning the final two on their home floor since the NBA Finals went to a 2-3-2 format in 1985.
Of course, the Heat — who won 27 in a row during the second-longest winning streak in league history — haven't put together consecutive victories now in close to a month.
"We're in a position where it's a must-win and everything that we've done all year comes to this point, and we have to win," Heat guard Ray Allen said. "We've found ourselves in so many situations this year, and we've thrived in tough moments because this is a tough team. We will be ready for Game 6."
So will the Spurs, and the Heat know it.
"I'm sure this team, they've been here before many times. They understand winning that last game is one of the hardest things you're going to do. And we understand it as well," Wade said.
"But you know what? It's the game; we've got to play it. I like our chances, just like they like their chances, in this series and in Game 6. We'll see. We'll see which team, which style is going to prevail."
Their four titles have made the Spurs respected but never beloved. Their first, in 1999, came following a 50-game lockout season, and they certainly weren't the team to help the NBA regain its jilted fan base.
Victories in 2003 over New Jersey, 2005 over Detroit and 2007 over James' Cleveland Cavaliers were all low-rated, lukewarm-interest series in which the Spurs were supposed to win and did, just not in a way that erased the idea that they had boring players with a boring brand of basketball.
Win this one, though, and they will surely get their due. They would be knocking off the league's winningest team and the game's best player, with Duncan at 37 and Ginobili soon to be 36, behind a more wide-open offense that has helped Green break Allen's finals record for 3-pointers.
Not that they're thinking about that, or anything else beyond Game 6 at this point.
"We'll reflect back and let it hit us when it's over. We still have a lot more work to do. There's still some business to be done. We have to carry it out and finish it," said Green, who was cut previously by the Cavaliers and Spurs and now has made 25 3-pointers in the first five games.
It looked as though the game was finally passing by the Spurs last year, when the young Oklahoma City Thunder blew by them with four straight victories after San Antonio had taken a 2-0 lead in the Western Conference finals.
The Heat routed the Thunder for the championship and the Spurs brought back essentially the same team, believing another year in their system for players like Green and Kawhi Leonard was a better option than seeking out some quick-fix outsider.
That's almost always been the Spurs' way, and it's on the verge of again being the model for an NBA title — at the expense of the Miami one that once appeared to be the way champions would be built.
"I think every one of us wants this very badly from the top on down," Duncan said. "We're trying to play that way."
Follow us on twitter.com/foxnewslatino
Like us at facebook.com/foxnewslatino