Miami Heat president Pat Riley: 'I love what we have built'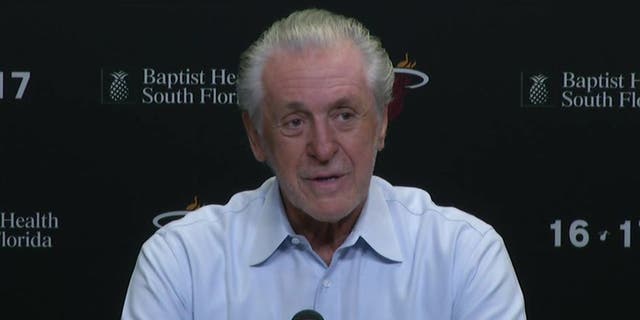 MIAMI (AP) -- Pat Riley has plenty of thoughts.
Resting players is a travesty that the NBA needs to address. Having a head-to-head tiebreaker with Chicago for the final playoff spot in the Eastern Conference, despite his Miami Heat playing the Bulls only three times instead of the customary four, was ridiculous. Boilermakers should only be made when shots of high-end tequila are dropped into beers.
All that and more was revealed Wednesday in Riley's annual end-of-season address, a rambling smorgasbord of comments from the Basketball Hall of Famer and Heat president who just finished his 22nd season with the franchise. And, as per usual, there was a clear sense of optimism for what's next with the Heat.
"I do love this team," Riley said. "And I love what we have built."
Riley said he was gutted by Miami missing the playoffs this season, one where the Heat won 30 of their final 41 games. Even that wasn't enough to fully overcome an 11-30 start to the season, and Miami didn't reach the postseason for the second time in the past three years.
But he clearly wants the core of this team back, including free-agents-to-be like James Johnson, Dion Waiters and Wayne Ellington. Johnson and Waiters are going to command significant raises this summer, and Ellington's option is controlled by the Heat. They are three of the four biggest question marks on the Heat roster going into the offseason, and those questions might have been answered Wednesday.
"We're going to hopefully make the right selections," Riley said. "I hope that Dion and James and the rest of our free agents like it here enough that we're going to be fair with them and they're going to be fair with us."
Riley also addressed his own future, and he's not going anywhere anytime soon.
"I just want to have a great summer, come back and have a great team and try to win the championship, contend for championships," Riley said. "I don't know how many more non-playoff years I can take or I want to take. I'm not so sure that if we have non-playoff years I even deserve to be here."
Other key topics Riley touched upon:
THE BOSH ISSUE: Chris Bosh remains on the Heat roster, even though he hasn't been able to play because of health issues since February 2016. The Heat will likely waive him before this summer. "There's no resolution to it right now," Riley said. Even while insisting he wasn't going to talk about it, Riley added "there isn't anybody in this organization who feels worse for CB than I do." He also revealed there have been talks between the team and Bosh in recent months.
RESTING PLAYERS: Riley thinks he grudgingly was the first coach to rest players, when as coach of the Lakers he was told by Jerry Buss to sit Magic Johnson and others in an end-of-season game against Portland. The issue is currently a major topic for the NBA and Riley said the Heat don't believe in resting players -- though they did have Dwyane Wade on what the team called a "maintenance program" toward the end of his time as a Heat player. "I think it's gotten to the point where it's become a travesty, an absolute travesty, and blatantly so," Riley said.
THE TIEBREAKER: Most teams in the same conference meet four times per season, with some instances where they play only three. The Heat and Bulls played three times, and Chicago won 2-1 -- with Miami only getting one home game. Both teams finished 41-41 and tied for eighth in the East, and Chicago got the playoff spot over Miami. "Really, that's ridiculous," Riley said. "If we played two here, maybe we'd be in the playoffs. That should not be part of the tiebreaker. When it's head-to-head, there should be equality."