Mexican Soccer Clubs Ban Sports Tabloid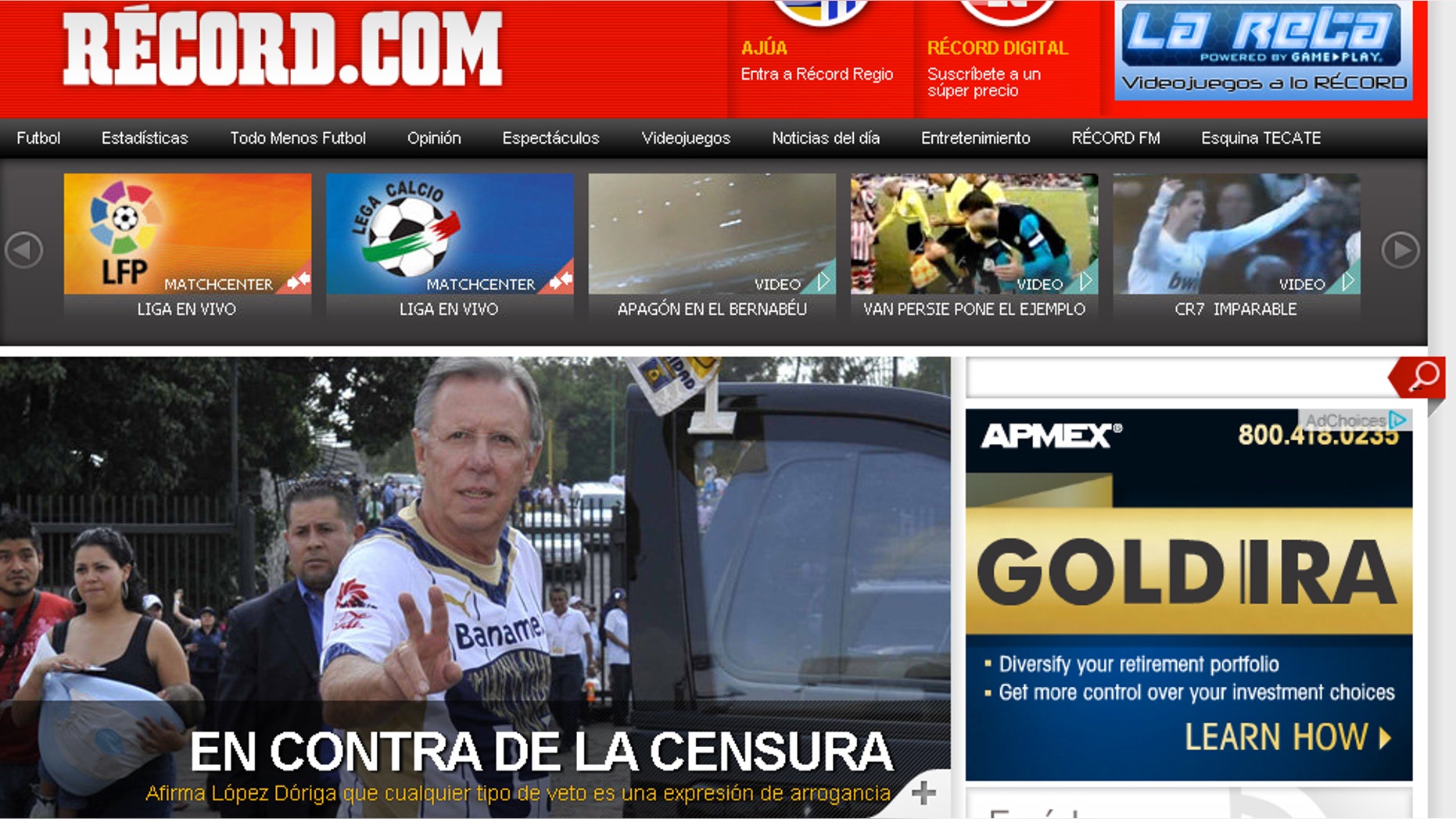 MEXICO CITY – Mexico's soccer federation and 18 first-division soccer clubs agreed to ban access to reporters from the sports tabloid  Récord.
An announcement posted on the website of the Mexican federation Saturday said the soccer clubs acted in solidarity with the Chivas team of Guadalajara, whose owner has often denounced coverage by the tabloid Récord.
A club statement accused the paper of "a campaign of hate and abuses." It said all 18 clubs agreed to ban the paper's representatives from their stadiums and other facilities, though at least one club said it has not yet enforced the ban.
Chivas and Récord have had a running battles about coverage. The dispute has intensified recently with poor play by Chivas, which failed to win any of its first six games in the current tournament.
Chicharito's Excellent Adventure
Chivas spokeswoman Eugenia Valdez told the Associated Press the club had no comment.
Alejandro Gomez, sports director of Grupo Editorial Notimusa, which publishes Récord, told the AP he did not plan legal action to overturn the decision, but said the newspaper would continue to cover football.
"This is dangerous," Gomez said. "Today it was us, but tomorrow any club that is unhappy with coverage of its team can ask for the same thing and the rest will have to go along. It's a shame because Mexican football needs to improve and polish its image instead of taking measures like this."
In a column published Saturday, Gomez called the action "simple, retrograde and inefficient" and denied publishing personal material about Fuerntes or other football league officials.
At least one club said it would allow Récord access this weekend.
"Since we have not received an official notice yet, we're going to continue as things were," said Manuel Velazquez, spokesman for the club Cruz Azul.
Chivas is one of Mexico's most popular clubs and Récord has blamed the team's recent abysmal play on owner Jorge Vergara and his wife Angelica Fuentes, who serves as executive president of the team. It has suggested they have failed to invest in player talent. Vergara said the coverage had prompted death threats against him.
Vergara owns the Omnilife company, which sells health supplements throughout the Americas and in Spain.
Four of the teams in the league are owned by large media corporations that cover sports. Televisa controls Club América and San Luis. Grupo Azteca or its subsidiaries have majority control of Morelia and Jaguares. Televisa also owns Aztec Stadium, home to Club America and Mexico's national team.
Based on reporting by The Associated Press.
Follow us on twitter.com/foxnewslatino
Like us at facebook.com/foxnewslatino