Mets upset after Yasiel Puig admires his HR and slowly trots around bases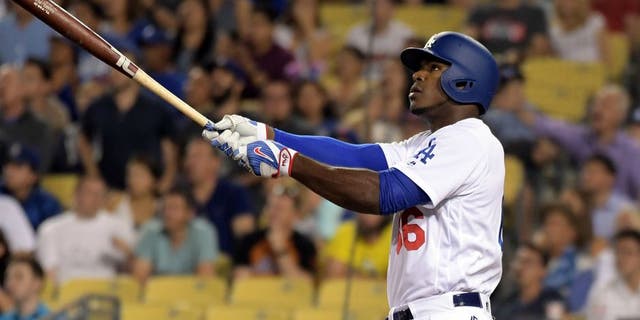 NEWYou can now listen to Fox News articles!
Yasiel Puig went deep, and the Mets got upset. After crushing his 13th homer of the season Wednesday, Puig took a few seconds a few seconds too long for some of the Mets to admire his three-run shot.
As Puig eventually rounded the bases his 32-second homer trot was his second-longest of the season, according to MLB.com Mets first baseman Wilmer Flores had a few words for the slugger. And catcher Travis d'Arnoud and Puig exchanged pleasantries at the plate.
Between innings, Puig chatted peacefully with the Mets Yoenis Cespedes and Jose Reyes about the incident. However, Flores still was upset following the Dodgers 8-2 win:
"I think there's a way to enjoy a home run," Flores said, via MLB.com. "You enjoy it. You see it. But that was too much.
"I don't think he knows what having respect for the game is," Flores said. "We're playing horrible right now. We don't need his [expletive]"
Puigs response: "We've been hitting well, and we've been hitting a lot of home runs, and if that's the way that he feels, it might be result of them not playing so well."
With the win on Wednesday, the Dodgers moved back into first place in the NL West, a half-game ahead of the Rockies and 1.5 games ahead of the Diamondbacks.
The Mets and Dodgers wrap up their four-game series in Los Angeles tonight.