Mets' Tejada leaves game after takeout slide by Dodgers' Utley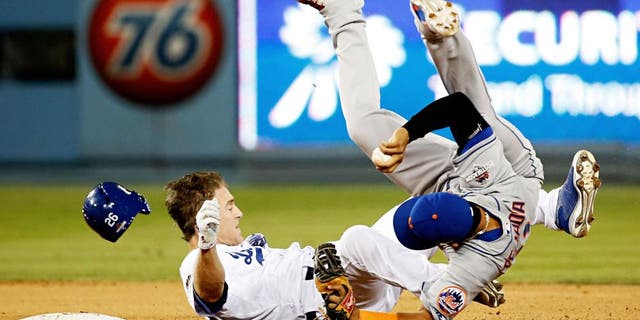 New York Mets shortstop Ruben Tejada was carted off the field after being taken out on a slide at second base by the Los Angeles Dodgers' Chase Utley in the seventh inning of Game 2 of the NLDS on Saturday.
Tejada, who took a throw from second baseman Daniel Murphy before Utley arrived at the base, has a fractured right fibula.
Utley was attempting to break up a double play and initally was called out, though he later was called safe after a replay review -- even though he never touched the base after sliding.
The Dodgers tied the score at 2 on the play as Enrique Hernandez scored from third base. They later took a 5-2 lead in the inning on RBI doubles from Adrian Gonzalez and Justin Turner.