Mets' Syndergaard: 'We're going to give it to the Dodgers anywhere'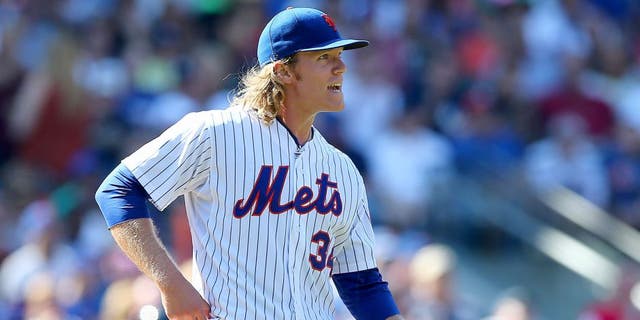 NEWYou can now listen to Fox News articles!
Noah Syndergaard may only be a rookie, but he's not afraid to speak his mind, and had some words to send along to Los Angeles ahead of the Mets' NLDS matchup with the Dodgers.
Due to the results of this past weekend, the Dodgers have claimed home-field advantage for the series, which entails Cy Young Award candidates Clayton Kershaw and Zack Greinke will pitch the first two games in the comfort of their home Dodger Stadium with over 50,000 fans rooting them on.
That's hardly a daunting scenario for the Mets rookie Syndergaard, though.
"I think we're going to give it to the Dodgers anywhere we are," Syndergaard said on Saturday, before home-field advantage had been decided.
After Jacob deGrom takes the ball against Kershaw in Game 1, Syndergaard will face Greinke in Game 2. Matt Harvey is slated for a Game 3 start, and the Mets might throw deGrom on short rest in a potential Game 4, which would likely be followed by Syndergaard for a Game 5 start.
While he has had his growing pains this year, the 23-year-old righty finished the season with a 9-7 record, a 3.24 ERA, and a 1.11 WHIP.
"I feel like I ended the regular season on a high note … and I learned a lot this season," Syndergaard said. "Now I have to transfer what I learned during the season into the playoffs."