Mets' Matt Harvey unavailable to pitch in Game 5 of NLDS vs. Dodgers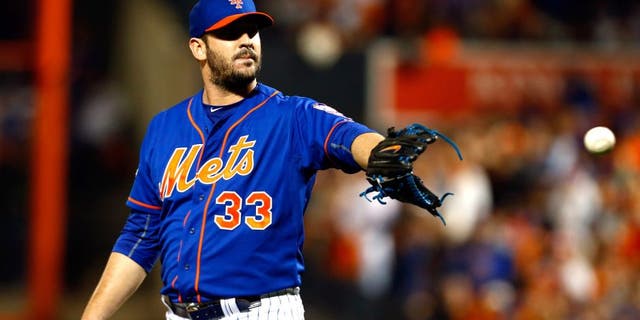 NEWYou can now listen to Fox News articles!
The New York Mets will need all hands on deck as they try to clinch the NLDS in Los Angeles on Thursday, but Matt Harvey's contributions in Game 5 will be strictly emotional support.
Manager Terry Collins vehemently denied the possibility of Harvey pitching in relief of Game 5 starter Jacob deGrom on Thursday after starting Game 3 for the Mets on Monday.
In his start, Harvey allowed seven hits and two earned runs over five innings while striking out seven and walking two.
The 26-year-old righty didn't have his best stuff, and was knocked around by the Dodgers in spurts, but his mediocrity was overshadowed by the Mets' explosive offense, which put up 13 runs in their Game 3 rout of the Dodgers.
While Harvey isn't expected to pitch in in Game 5, the New York Post reports that he could make two starts in the NLCS if the Mets advance past the Dodgers.
While he appears to have no limitations during his postseason outings after controversy surrounded his usage in the latter stages of the regular season, Collins says the master plan for Harvey's postseason usage isn't comprehensive.
"The only thing I mapped out is when we talked about Matt Harvey pitching in the playoffs," Collins said. "When we were going through that whole situation about 180 innings and this and that, when we talked about him pitching in the playoffs, the only thing we said was that in the first round, he's probably going to get one start. So, what game is it going to be? That's as far looking into the future as we went."