Mets making new pitch in ways for teams to find relief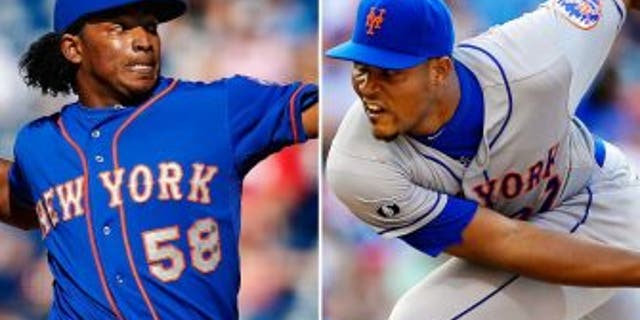 The New York Mets have struggled this year. Things have been better, especially on the pitching side, but they'll likely find it difficult to finish above .500 in 2014. One of the many reasons the team has been unable to win games has been its inconsistent bullpen.
Six different Mets have recorded a save this season, the most of any team. Two of those pitchers recorded saves in consecutive games and they did it by throwing more than one inning.
At one point in late May, Jenrry Mejia closed out a victory with a two-inning save. The following night it was Jeurys Familia, who pitched 1.2 innings while recording his first save of 2014 and second of his career. In fact the Mets won three of their last four games in May and a different pitcher saved each of those wins.
There was no issue using Mejia and Familia for multiple innings. Both are young (24), and both have been starters in the past, Mejia as recently as this year.
The combination of two young, strong right-handed relievers with wipeout stuff offers the Mets a unique opportunity to try what those in the advanced statistical community have only dreamed about, not having a designated closer and using your best arms to get the biggest outs. Even if that means pitching more than one inning.
Relievers are fickle and closers can be the most visible offenders. For years, teams have invested in closers only to regret their decisions down the road. Many of them have Mariano Rivera to thank for their riches. He set the standard for closers, a model of incredible consistency and postseason excellence. To try and find anything close to him will always be an exercise in futility.
The inconsistency of relievers is well-documented. Fernando Rodney had a 2012 for the ages when he nailed down 48 of 50 save chances and posted an absurdly low 0.60 ERA. In 2013, he blew eight saves and saw his ERA jump more than five times what it was the year before.
Brad Lidge had a nearly perfect 2008 campaign, 48 for 48 in save opportunities including the postseason, a year when the Phillies were crowned World champions. The next year was the worst season of his career, he blew 11 saves and posted a 7.21 ERA. He made $12 million that season.
The A's went A-typical and acquired Jim Johnson this off-season knowing full-well his salary would be upwards of $10 million as a third-year arbitration eligible player. After a horrific start to 2014 Johnson is currently no longer being called upon to get important outs for the Athletics, closing is not a consideration. This was a rare -- and costly -- misjudgment for general manager Billy Beane.
So while teams chase for closers, giving them dollars they often ultimately regret the Mets sit in a unique position. They don't have a true closer … and they don't need one.
The biggest outs in the game don't always come in the ninth inning, in fact, they rarely do. More often than not, the biggest outs in the game come as early as the seventh or eighth inning, when a team reaches into their bullpen and calls on a good reliever, but usually not their best available arm. That arm is saved for the ninth inning, if the team is leading by three runs or less.
How many times have you seen your favorite team's set-up man face the middle of the order in the 8th inning? Or come into the middle of an inning with the tying run in scoring position or the winning run at the plate while your best reliever, your closer, watches from the bullpen?
I've thought about this for years, as a member of many major league bullpens I always thought it would be nice to be the closer. You always know when you are going to pitch, you almost always get a clean inning to work with, you rarely warm up and then are told you're not going into the game. And then, of course, the real kicker, you make the most money of any pitcher in the bullpen. It never made sense to me.
Now, I will tell you that having an established role in the bullpen is greatly beneficial to the guys in the pen. Relievers have been conditioned a certain way; we like consistency, we like to have a good idea when we may go into the game and we don't like chaos or surprises. But that is mostly because we have been taught to believe this is the best way. Using your best arms in the biggest situations might look strange at first, but like anything else, relievers would get used to it. Especially if their manager was consistent.
Through May 31, both Familia and Mejia had 42 games pitched in the major leagues as relievers. If they are your top two young arms, and you can throw Vic Black in there as well, why set roles like "closer" and "setup" man with them? There is still time to condition them in a more effective, beneficial way.
The Mets have an opportunity here to say to their best relievers, we have no closer, be ready from the sixth or seventh inning on because you could be called upon to get the biggest outs of the game. It is a great way to develop these young arms. Pitching in tight spots late in the game only makes you better as those games test your fortitude. If the Mets put their best young relievers in these games regardless of the inning, the result will be a group of battle-tested arms that will be ready to handle any and all situations.
Expensive closer are great when they are consistent, but so few are. Why force someone into the closer role when you don't really have one? The Mets have some bright young arms both in their bullpen and in their rotation. This is an ideal time to train those relievers differently, both physically and mentally.
It takes the right personnel and the right manager, but the Mets have that here and they could start a trend that may change baseball.