Mets' Harvey 'swelled up' from comebacker: Will he start Game 5?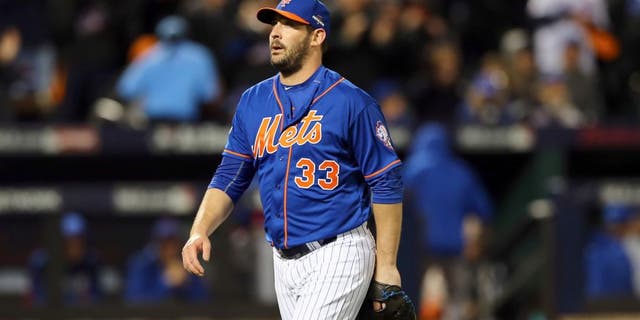 NEWYou can now listen to Fox News articles!
Matt Harvey was able to continue pitching for the New York Mets after being hit by a line drive on his throwing shoulder during Game 1 of the NLCS, but the blow might affect his availability for the remainder of the series.
Manager Terry Collins told reporters Monday that Harvey is experiencing soreness and his arm is swollen after being struck by a line drive in the Mets' win over the Chicago Cubs in Game 1 of the NLCS on Saturday.
"He's pretty sore and pretty swelled up," Collins said Monday afternoon. "He, as we sit here today, is a go. But that could certainly change in the next couple of days. ... I was pretty surprised at how swelled up it was yesterday. So we certainly are going to keep a really close eye on it the next couple of days."
If Harvey is unable to make the start, Collins says that he will go with either Bartolo Colon or Jonathon Niese for Game 5. Both pitchers are starters converted to relievers for the postseason.
While Collins is concerned about the swelling in Harvey's arm, pitching coach Dan Warthen is confident the 26-year-old righty will be able to start a potential Game 5 on Thursday.
"I don't foresee any problem with Matt going out there and pitching," Warthen said. "He just came out to throw. A lot of guys hate to have a day off, so a lot of players will come in on a day off and just play catch. Nothing more than that.
"He's doing his treatment. The doctors looked at it yesterday. He was in great shape. He's in great spirits. Actually, it might have been better when he pitched [Saturday], because it kept it stretched out, instead of putting ice on it and contracting it right away. It might have been beneficial that he was able to continue to throw and keep that thing stretched out."
The comebacker, which occurred in the sixth inning, didn't appear to affect Harvey at all during the game, and he went 7 2/3 innings, during which he gave up two earned runs on four hits and two walks and struck out nine.
Nonetheless, the Mets will continue to closely monitor the condition of his arm.
"Any time you have swelling, it leads to stiffness," Collins said. "So as stiff as he was yesterday, we're going to be careful. ... I think the big time will be [Tuesday], because that would be a day that he wants to throw [off a mound] anyway, so we'll have to make our judgments how he feels after tomorrow."