Mets general manager rips Boras over Harvey innings cap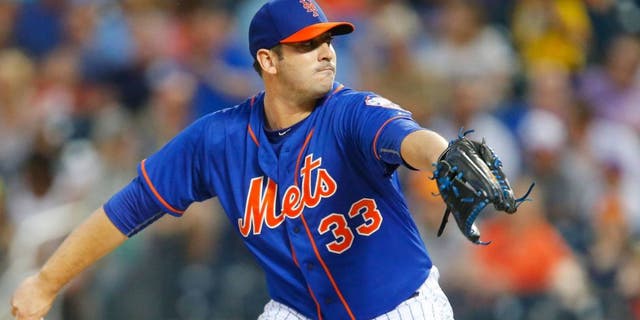 The New York Mets are putting Matt Harvey in a position to become incredibly unpopular with the fans if he decides to shut it down for the year after pitching a certain number of innings.
Scott Boras, Harvey's agent, recently made it very clear that Harvey's doctor does not want the 26-year-old pitching more than 180 innings this season. The Mets are in first place in the NL East and in position to win the division for the first time since 2006. On Saturday, general manager Sandy Alderson told Mike Lupica of the New York Daily News that Dr. James Andrews, who performed Tommy John surgery on Harvey, never told the Mets about an inning cap.
"Dr. Andrews didn't tell me there was a 180 innings limit," Alderson said. "That's Scott. But Jimmy Andrews isn't the kind of guy who's going to get into a pissing contest with anybody."
Harvey confirmed on Saturday that Andrews told him he should set a limit of 180 innings this season. He also said he does not want to put the ball down, but he was quick to point out that he trusts both Boras and Andrews.
Alderson claims the understanding between Harvey and the Mets last year was for the right-hander to pitch 185 innings plus the postseason this year.
"The plan last winter was 185 innings plus the playoffs," he said. "Let's shoot for 185 and see where we are at the end of the regular season and make a decision then about the playoffs depending on the condition of the player. That was before we went to spring training."
Alderson also said he was the one who started giving Harvey more rest between starts when he hit the 140-inning mark earlier this season.
"And by the way? I'm the one who initiated this whole thing when Matt got to 140 innings. I said, 'Matt, remember, we're shooting for 185. But given the way things are going, we might exceed that, maybe to 195 instead.' I told him to call Scott and that we would all talk it over and see what everybody thinks. That's what precipitated these calls to the doctors. Now it's as if Scott was the one monitoring things at 140. That's bulls -- .
"Matt's going to have to make a decision. Scott wants us to make it, and take it out of Matt's hands. But this is a 26-year-old man here, not some 18-year-old kid. He's an adult. This paternalistic attitude that Scott might have toward his clients, that's not going to be duplicated by us. We've done our research and our due diligence."
Did Boras suddenly get in Harvey's ear? It sure sounds like it, and you can see more evidence of that here.
The Mets have not won a World Series since 1986, and pitching is everything in the postseason. Alderson has made it clear that the team wants Harvey to pitch in the playoffs. If he doesn't, the fans are not going to be pleased.
More from Larry Brown Sports: