Mets' Cespedes gets cortisone shot in sore left shoulder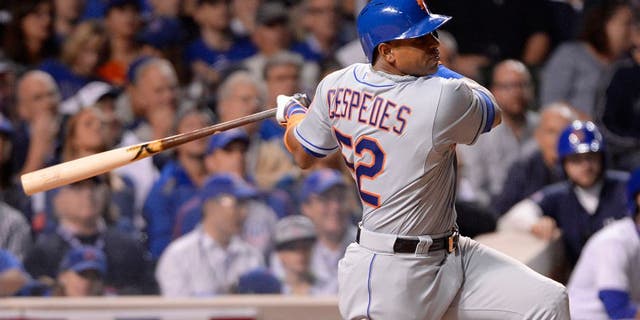 Mets outfielder Yoenis Cespedes has had a cortisone injection in his left shoulder, and the team expects he will be ready for the World Series next week.
Cespedes left Wednesday's NL Championship Series finale at Chicago in the middle of the second inning. The slugger had the injection on Thursday and was told not to participate in baseball activities for 24 hours, Mets spokesman Jay Horwitz said. Cespedes was not at Friday's voluntary workout at Citi Field.
Mets manager Terry Collins says: ''We've got it taken care of. The doctors, they said, look, he'll be OK, and so tomorrow we'll find out.''
Collins said he didn't ask how Cespedes got hurt, adding: ''He didn't do it playing golf. He didn't have a bad sand shot or didn't get stuck in the side of a bunker. ... He either did it on a swing, or did it on a check swing or something else.''