Mets ace Harvey says he will pitch in postseason despite innings limit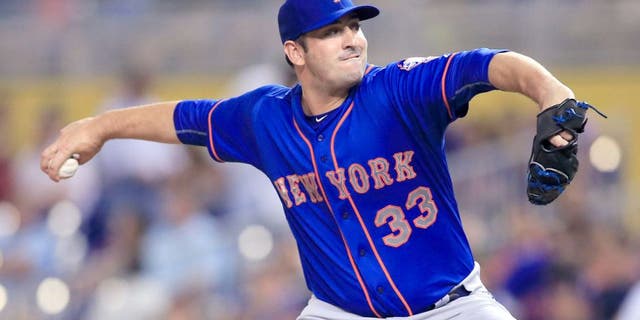 Matt Harvey put New York Mets fans' fears to rest Sunday.
After rumblings that the Mets ace might want to shut himself down to avoid exceeding a pitch limit, Harvey writes in The Players' Tribune that he will be "healthy, active and ready to go" in the playoffs.
"I love to play baseball and I love winning even more," Harvey writes in The Players' Tribune. "I would not give that up for anything. I also know I want to be able to play and win for a long time. But there has never been a doubt in my mind: I will pitch in the playoffs. I will be healthy, active and ready to go."
Harvey said Saturday that his surgeon, Dr. James Andrews, advised him not to exceed 180 innings this year after undergoing Tommy John surgery. Harvey has thrown 166 1/3 so far.
The 26-year-old Harvey is 12-7 with a 2.60 ERA in 25 starts, a year after missing the season while recovering from Tommy John surgery.
"I am communicating with my agent, my doctor, Sandy and the entire Mets organization," Harvey writes in the Players' Tribune. "I can assure everyone that we're all on the same page.
"Together, we are coming up with a plan to reach an innings limit during the season. It will be a compromise between the doctors and the Mets organization to get me, and the team, to where we need to be for our postseason run."
The Mets have tried to get Harvey extra rest this season and have pulled him early from games. Other teams have done the same with their young pitchers, especially those coming back from injuries.
But Harvey is committed to helping the surprising Mets reach their potential.
"I understand the risks," Harvey writes in the Players' Tribune. "I am also fully aware of the opportunity the Mets have this postseason. Winning the division and getting to the playoffs is our goal.
"Once we are there, I will be there."
The Associated Press contributed to this report.