Messi's free kicks highlight Barcelona's wild Super Cup win vs. Sevilla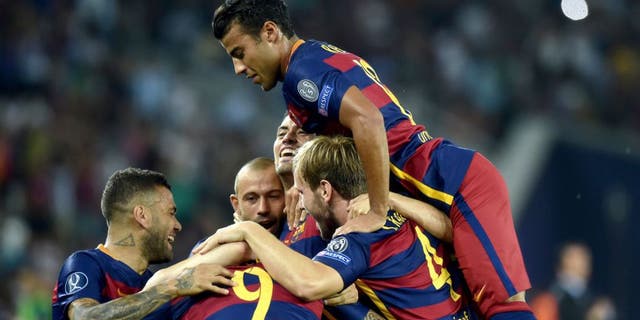 Pedro scored a late goal to give Barcelona a 5-4 victory in extra time over a battling Sevilla, to win a record-tying fifth UEFA Super Cup. Three goals in the game came off free-kicks struck by Lionel Messi, but the story of the night was just as much about Sevilla's fight back: they nearly denied the European champions when they staged an improbable comeback from 4-1 down to send the game into extra time.
With the result, Barcelona won their first major trophy of the season and also became the joint all-time Super Cup win leaders, tied with AC Milan. Sevilla, for their part, lost their second straight Super Cup, but will have impressed many with their play Tuesday night in what truly was a game for the ages.
This was no tepid exhibition: it was a high-powered affair that put the lie to the game's status as a sort of glorified friendly. The successor to the fondly-remembered Cup Winners' Cup, today's Super Cup is an annual meeting between the winners of the two major European club competitions.
Originally devised as something of a stunt by a leading Dutch newspaper in 1972, the tournament has become a semi-friendly affair: a game staged nowadays on neutral ground, but generally played with enough vigor as to be more than an exhibition. This year, the game was anything but friendly, and you felt both sides were trying to lay down a marker for the La Liga season yet to come.
Sevilla arrived here for the second year in a row as the back-to-back Europa League winners. They are not pushovers: Ever Banega, Kevin Gamerio and Coke are some of the best players at their position in Europe, and despite the loss of last-year's star Carlos Bacca to Italy, they seem to have enough to prosper again. Sevilla's problem, however, is that they do not have the firepower that this Barcelona side can unleash. Even with Neymar sidelined by a reported case of the mumps, Barca's attacking trident is simply too much for most teams to handle.
That's why it was somewhat refreshing to see Sevilla seize the early lead, scoring the first of what would be a trio of free-kick goals. Javier Mascherano rudely cleaned out Jose Antonio Reyes with a tackle tougher than the occasion truly called for, and Ever Banega made sure Barcelona paid with a scorching free-kick that smoked Marc-Andre ter Stegen. Not three minutes had elapsed and some began to dream that an upset was on the cards.
Nope. Three minutes later, Grzegorz Krychowiak fouled Luis Suarez after he received a pass in stride from Messi. Up stepped the Argentine, and with Beto screened by his wall, looped the kick up and over the wall to tuck neatly in the top right corner of the net.
Messi would repeat the feat not ten minutes later, and this from about ten yards further out. Once again Beto set up his wall after Ivan Rakitic was toppled; once again he was helpless as Messi pinged his shot in off the post to seize the lead for Barcelona.
Barcelona went for the throat, with Beto under pressure for the remainder of the half. He was spared blushes in the 28th minute after a fine interchange between Messi, Jeremy Mathieu and Suarez was waved off by the assistant; he was fine in stopping a pile-driver of a shot from long-range in the 31st from Dani Alves. But he could do nothing about his defense, which twice left him helpless.
Coke was exceptionally poor on the third goal, which came just before the break. Suarez's initial shot was well-stopped by Beto, but the Uruguayn recovered and slipped a ball through three men to find Rafinha. Caught on the wrong side, Coke flailed at the striker, but the ball was already in the back of the net.
After the break, Sevilla conspired to gift Barca a fourth goal with some truly shoddy defending. Benoit Tremoulinas lazily slid the ball in the general direction of Banega from the far flank, which only resulted in a grateful pickoff by Sergio Busquets. He took a single step, slid the ball up to Suarez, and once again Beto was on the ground and the ball was behind him.
Reyes nicked one back in the 56th off good service from Vitolo that seemed to catch Mascherano napping. With a clean volley from about eight yards, Sevilla seemed to catch a glimpse of hope. In fact, it was the spark that ignited the comeback.
Barcelona quickly made a major mistake. Mathieu pulled down Vitolo in the box with twenty to play, allowing Gameiro a chance to score from the spot. He promptly fired in near post with ter Stegen watching, and suddenly the game was back on.
Then came the moment of magic: sub Ciro Immobile, acquired to fill Bacca's shoes after a disappointing stint in Germany, fed Yevhen Konoplyanka, racing in alone through the Barca defense. Ter Stegen was helpless as Sevilla drew level, 4-4, and with the waves of white crashing in front of his goal, the crowd sensed an historic upset might be in the offing.
But the two periods of extra time showcased tired legs and tired minds, with neither side really able gain any bit of an edge. It was not until Messi was gifted yet another free kick in close that the game turned, and it was another sub, Pedro -- heavily linked with a move to Manchester United -- that finally sealed the deal after Beto made a magnificent save.
Sevilla had two chances left, with Ever Banega and Coke connecting, only to see Coke put his header agonizingly wide with less than a minute left to play and just seconds after that Adil Rami kneeing the ball wide in front of an open net.