Messi breaks 40-year-record for most goals in single year with 86th goal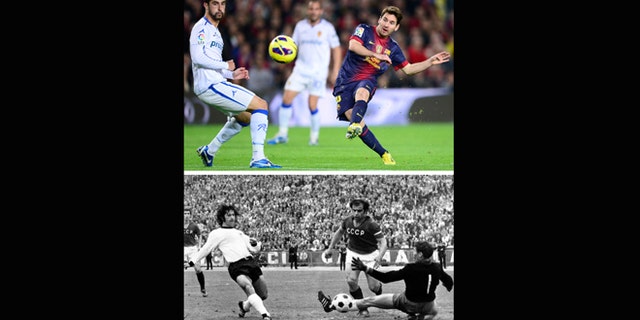 SEVILLE, Spain – Barcelona forward Lionel Messi and Atletico Madrid striker Radamel Falcao were unstoppable Sunday on a memorable night when both stars again demonstrated why their teams fill the top two spots in the Spanish league.
Messi broke a 40-year record for most goals in a year by scoring his 85th and 86th goals of 2012 to lead Barcelona to a 2-1 win at Real Betis, while Falcao struck five times as Atletico thrashed Deportivo La Coruna 6-0.
Messi struck in the 16th and 25th minutes to break German great Gerd Mueller's 1972 record of 85 goals.
Barcelona's eighth win in as many away games this season puts it six points ahead of Atletico and 11 in front of defending champion Real Madrid.
Falcao is the first player to score five goals in one game in the Spanish league since 2001-02.