Men who rushed Ryan Lochte on 'DWTS' ordered to stay away from swimmer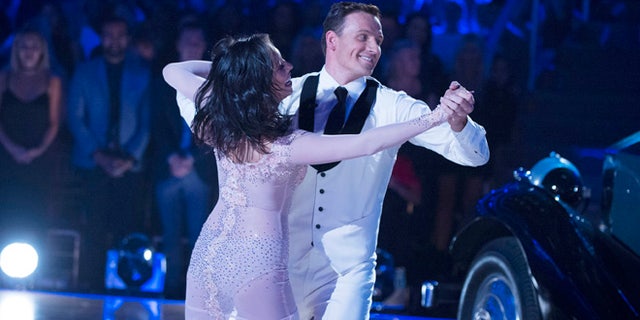 NEWYou can now listen to Fox News articles!
A California judge has order the two men who rushed onto the stage on "Dancing with the Stars" last month to protest Ryan Lochte's participation on the show to stay away from the Olympic swimmer.
ABC News reported that Sam Sotoodeh and Barzeen Soroudi were ordered to stay at least 300 yards away from Lochte as well as from the facilities associated with the show's production.
Sotoodeh, 59, and Soroudi, 25, were arrested on Sept. 12 after rushing onto the stage while the Cuban-American swimmer was receiving the judges' comments during the ballroom dancing competition. They were both wearing shirts with a red circle and slash over Lochte's name.
They were charged late last month with interfering with a performance and leaving a spectator area and entering a stage, both misdemeanors. If found guilty, they could face up to six months in jail and a $1,000 fine.
The two men told reporters they wanted to "get the message out that Lochte is a coward, a liar and, under Brazilian law, a criminal."
They claimed they were never going to hurt Lochte just that they were angry that he had "over-exaggerated" the story about being robbed at the Rio Summer Olympics.
The purported robbery became the biggest spectacle outside of the Olympic venues in Rio, casting a shadow over American athletes amid an otherwise remarkable run at the Summer Games. The ordeal was also a blow to Brazilians, who for months endured scrutiny about whether the city could keep athletes and tourists safe given its long history of violence.
The AP contributed to this report.
Like us on Facebook
Follow us on Twitter & Instagram