Memo to Big Blue (Nervous) Nation after Kentucky's win over Louisville: R-E-L-A-X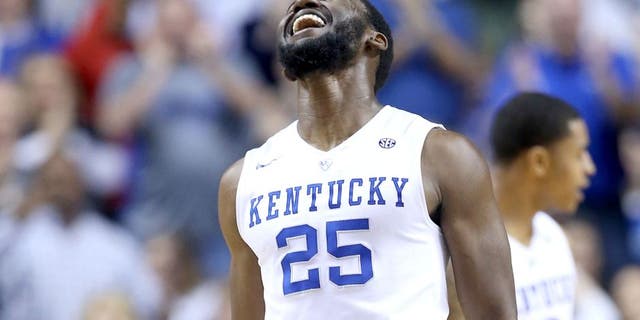 Kentucky basketball fans are the most passionate and unstable fan base in the nation. Every year under John Calipari, the expectation is a national championship, and the assumption is the Final Four. It comes with the territory -- Calipari's made four Final Fours in his six years at the nation's most storied college basketball program -- but it also brings expectations that are absurdly high and often unreachable.
All of this adds up to why Kentucky's pre-Christmas loss to a young, unranked Ohio State team could turn Big Blue Nation into Freakout Nation leading into Kentucky's Saturday matchup with cross-state rival Louisville.
And don't you dare assume that Kentucky's 75-73 home win over a Louisville team that might be the nation's most criminally underrated team will give any solace to Big Blue Nation that everything is going to be all right.
Despite the rivalry win that brings Calipari to 8-1 in his Kentucky career over Louisville's Rick Pitino, there will be complaints around Big Blue Nation the next several days: Skal Labissiere, the Haitian big man many thought was the preseason favorite to be the 2016 No. 1 NBA Draft pick over LSU's Ben Simmons, turned in another uninspired performance, playing only 10 minutes and scoring two points. He appears to have completely lost the confidence of his head coach, and hasn't had an eye-opening effort since his second game. Freshman Jamal Murray, who was the only good thing in Kentucky's Ohio State loss, was awful, scoring 12 points on 3-of-14 shooting against the Cardinals, committing seven turnovers and taking at least six months off Calipari's life. Freshman Isaiah Briscoe didn't see the floor after turning his ankle in warmups.
There is no denying that this is a flawed basketball team.
And yet this season is the perfect season to have a flawed basketball team, because when you look at the dozen or so teams who feel like Final Four contenders at this point, you can find flaws with every single one of them.
Here's what I take away from what likely was the biggest win of Kentucky's non-conference season:
• That this team isn't in the same league as the nearly undefeated team from a year ago -- but then again, no one else is either.
• That there are some pretty big issues with this team, starting with Labissiere -- but that the bright spots, starting with the sensational sophomore point guard Tyler Ulis, ought not be ignored.
• That things are not perfect in Lexington -- but that Big Blue Nation should embrace the fact that at this point of a completely up-in-the-air college basketball season, everything truly is as all right as you can hope it can be.
Let's start with the fact that even though Big Blue Nation is often seen as the Land of the One-and-Dones, this team's strength is in its older players. There may be no more important player in the nation than the diminutive sophomore point guard Tyler Ulis. (I know it's weird calling a sophomore a veteran, but whatever, this is Kentucky.) Ulis showed why as he turned in the best game of his college career: He matched a career high with 21 points, he finally found his 3-point shot as he went 4-of-7 from downtown, he had eight assists and only one turnover, and all 5-foot-9 of him skyed in the air on a Louisville runout to slap a Quentin Snider layup into the stands, Dikembe Mutombo style.
And while Ulis is the unquestioned leader of this roller-coaster group, it's senior Alex Poythress -- yes, the University of Kentucky still has seniors on its campus -- who sets the tone. Poythress may be the most soft-spoken, thoughtful man on this team. But when he plays as he did, bounding around the court with limitless energy, blocking three shots, stopping any sort of second-half momentum for Louisville when he came out of the locker room and had six points, one assist and a steal in the first two minutes, Poythress is the spark who encourages this sometimes-stagnant team to play with the energy it needs if Kentucky wants to make its third Final Four in a row.
And with Briscoe's absence it was the often-overlooked junior Dominique Hawkins who held Kentucky together. Hawkins scored 13 points and made an uncharacteristic three 3-pointers, all while playing his trademark stifling perimeter defense.
Are there problems at Kentucky? Absolutely. This team should never be compared to last year's dominating group. And not just because the teams are constructed completely differently: Last season Kentucky had one of the best defenses we've ever seen in college hoops, where a bevy of 7-footers clogged every defensive lane and perimeter defenders could always take a gamble, while this year Calipari is trotting out a three-guard lineup with Ulis, Murray and Briscoe, and his defense is allowing a 6.8 more points per 100 possessions than a year ago.
This year is not last year in Big Blue Nation.
But let's not compare this team to the 2012-13 team that went to the NIT either. Yes, these Wildcats can play out of sync at times, but it's nothing like the 2012-13 team that consistently tantalized, then disappointed, its fans. There will be more bumps in the road this season. There will be more games like the Ohio State loss just before Christmas, or the UCLA loss earlier in December. This team will not go undefeated in SEC play. (By the way, I don't think there's a major conference team in the country that has a chance at going undefeated in its conference -- that's how seriously I take the wonderful parity in college basketball this season.)
And yes, there will be a few more Big Blue Freakouts before this season is done. That's part of the deal when you're in Lexington. Calipari knew the unfair expectations of the job when he took it more than six seasons ago. All his players know the pressures of playing for Big Blue Nation.
But mark my word: This team reminds me more of the 2013-14 Kentucky team than any other team in the Calipari regime. There is a lack of experience but an abundance of talent. There will be plenty of bumps in the road, like when the 2013-14 team lost 10 games en route to a No. 8 seed in the NCAA tournament. And like the 2013-14 team that made a magical run to the national title game, there will be an enormous amount of growth and development over the next three months. Kentucky fans should hope it comes from Labissiere, because having him turn into the monster NBA scouts expect him to turn into will mean Kentucky will cement its status as one of two or three teams that will be a smidge above the nation's dozen or so other very good teams leading into the NCAA tournament.
It's like that GEICO commercial: Basketball fans freak out in Kentucky. It's what they do. They'll keep freaking out with every bump between now and March.
But especially after the inspired win over Louisville, you shouldn't take those freakouts as evidence of anything more than a program that has created for itself the biggest first-world problem in all of college basketball: The expectation from fans that every new season should be The Season in Lexington.