Melvin Gordon is bracing for for ball pokes and ankle tweaks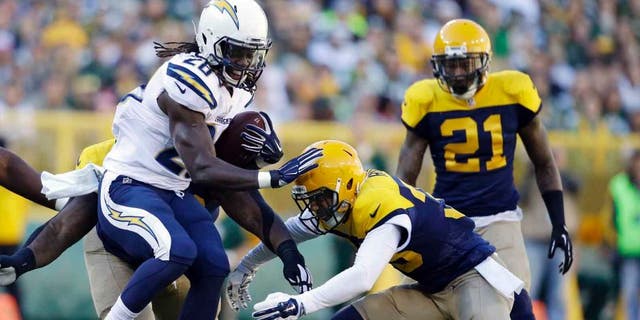 Melvin Gordon knows his two weaknesses -- ball security and an injured ankle -- could both come into play vs. Oakland. Jeffrey Phelps Associated Press
Melvin Gordon injured his ankle and his pride in the Chargers' sixth game.
He left Green Bay with two fumbles and a limp. It's only natural that the Raiders will try to exploit both issues this Sunday.
"I've got to understand that, and I'll be clean on that," Gordon told ESPN's Eric D. Williams.
Gordon dealt with this ankle ailment through preseason ball. The fumbling issues are new; he put two on the turf in Week 6 against the Packers.
He claims he's not worried about either now. But at the bottom of a pile, he said that defenders will do anything "to feed their families."
That means a little extra tape on the ankle in question and a little tighter grip on the pigskin.
"I am eager to go out there and prove to myself and everyone that I can take care of the football," Gordon said. "And I can go out there and do the things needed."
(h/t ESPN)
MORE NEWS: Want stories delivered to you? Sign up for our NFL newsletters.