Meet the newest member of the Golden State Warriors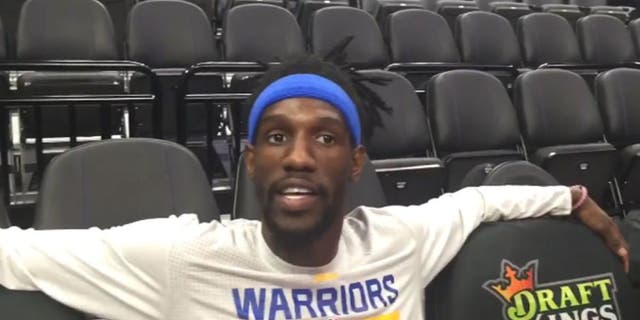 NEWYou can now listen to Fox News articles!
The Golden State Warriors have signed guard Briante Weber to a 10-day contract, the team announced Saturday. And after watching what Yogi Ferrell has done on a 10-day, all that the rest of the league can say is ... gulp.
Weber, meanwhile, is having the same reaction.
"Steph, KD, Klay, Dray -- for a kid like me, it's like 'Wow!'" Weber told the San Jose Mercury News. "This is my (NBA) 2K team. This is who I play with on the video game. It's going to take awhile for me to get used to, but I'll try not to be starstruck."
The Warriors waived veteran forward Anderson Varejao on Friday to make room for Weber, who was playing for Miami's D-League team and had offers from the Heat and Hornets, but chose to sign with the Warriors instead.
"Charlotte has three point guards, Miami has 17 guards period," Weber told the Mercury News. "I've been with Miami's (affiliate) and they hadn't picked me up by now, why continue going down that road? I figured I should pick something new and actually a team with a spot, and they let somebody go to fill me in, and that means a lot and says a lot about the organization and how they feel about me potentially being here longer than 10 days."
Weber, a 24-year-old undrafted free agent out of Virginia Commonwealth, was the NBADL's Player of the Month in January and was averaging 16.5 points, 7.5 rebounds, 7.4 assists and 3.26 steals on the season.
Kevin Durant said Weber is known for his "defensive intensity and athleticism. ... He's grown into a really good player." Coach Steve Kerr said scouts have compared Weber to Houston's Patrick Beverley.
"Obviously that's a pretty good comparison. Patrick Beverley is a hell of a player," Kerr told the Mercury News. "That's pretty high praise and it is the idea we're looking for. We like the defensive pressure and how he fits in with our team."
When asked about Weber, Steph Curry had to pop out his phone and watch some highlights. Weber joined him.
Maybe the most interesting thing is the new nickname he got from his new teammates.
Should be interesting, but if Weber doesn't work out, the Warriors can always sign Zaza Pachulia's son. Kid got range: