Meet the Michigan State walk-on who will soon be a 1st-round NFL Draft pick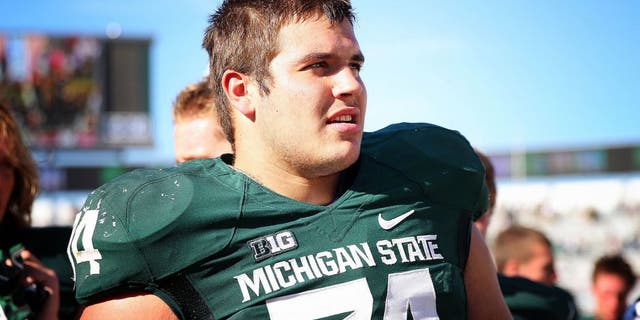 Jack Conklin's taken quite a path from being a walk-on with zero FBS offers -- who once tried (and failed) to catch the attention of Illinois coach/water skiing aficionado Ron Zook by including video of himself slaloming back and forth through the water as part of his football highlight tape -- to becoming the first All-American offensive tackle at Michigan State in almost 20 years.
Next up for the 6-foot-6, 315-pound Conklin is a trip to Indianapolis later this month for the NFL Scouting Combine, which many folks think will eventually lead to the Spartans star becoming a top-15 draft pick.
One thing is certain: Conklin has some compelling film for NFL scouts to peruse. Among the D-linemen he's faced: Oregon's DeForest Buckner; Ohio State's Joey Bosa; Alabama's A'Shawn Robinson; Penn State's Anthony Zettel; former Stanford star Trent Murphy; former Notre Dame standout Stephon Tuitt; and Nebraska's pass-rushing force Randy Gregory.
In 2014 against Bosa -- a guy some are projecting as a top-three pick -- Conklin graded out the highest among Spartan offensive linemen (92 percent), recording 10.5 knockdowns and helping limit Bosa to just one tackle.
"He's definitely one of those top players," said Conklin. "He's a 280-, 290-pound kid who can out-power you and is also very technically sound. He's that guy who can set you up and then come inside on you or he's gonna run around you. That's what makes him so hard to play against because most times you'll get that speed D-end or that power one. He's somewhere in the middle."
Asked why he was able to have so much success handling Bosa, Conklin said, "I think part of it was where everything was hyped up. I don't think he had played an offensive tackle maybe as good as me or maybe he didn't prepare as well for the game. It was just one of those games where it was extra hours of tape and watching everything about him to be able to neutralize him on Saturday."
Conklin called Gregory the most difficult matchup he had in college. "His first three steps off the line are just so quick." He said Tuitt or Robinson were the most physical guys he faced.
This year, Michigan State beat Ohio State in Columbus despite playing without starting QB Connor Cook, although Conklin didn't end up across from Bosa much since OSU moved its star to the other side. The Spartans proceeded to snap OSU's 23-game winning streak.
"The key turning point in that game was we came out at halftime and it was really cold," Conklin told FOX Sports Tuesday. "We're running around stretching and we looked over to their sideline and they're all huddled around their heaters. It was actually that moment where we said, 'We're going to win this game.' It just didn't seem like they were in it as emotionally as we were."
A three-year starter at left tackle, Conklin expects to run the 40 in the high 4.9s in Indy. How does an honor student with such size and athleticism get so overlooked these days in the recruiting process?
Well, start with this: He comes from a Michigan town of about 4,000. Conklin said that it'd been about 20 years since someone from his high school had been recruited by any major college football programs.
"The biggest thing for me is I didn't have a lot of exposure that these other guys had because we didn't know how to go about the process," he said, adding that he'd go online a lot to see who the other top-rated O-line recruits were to compare their film with his.
He didn't go to recruiting camps.
Instead, he played AAU basketball. "And once I finally did (go to camps and get some exposure) I think people did figure there was something wrong (since he had no offers). It was rough going through. I think my senior film was really good. I was just wrecking people, but I think people didn't watch it."
And that walk-on mentality is still fueling him like it did the whole time in East Lansing.
"That's huge for me," he said. "That's my motivation every day. Just to see how far I've come and how close I was to not having that chance to be in this position. So, I look back at that all the time and to keep looking forward to showing people partially what they missed out on and what I still have a chance to become."
Bruce Feldman is a senior college football reporter and columnist for FOXSports.com and FS1. He is also a New York Times best-selling author. His latest book, "The QB: The Making of Modern Quarterbacks," came out in October 2014. Follow him on Twitter @BruceFeldmanCFB and Facebook.