Meet Sam Darnold, the freshman quarterback who saved USC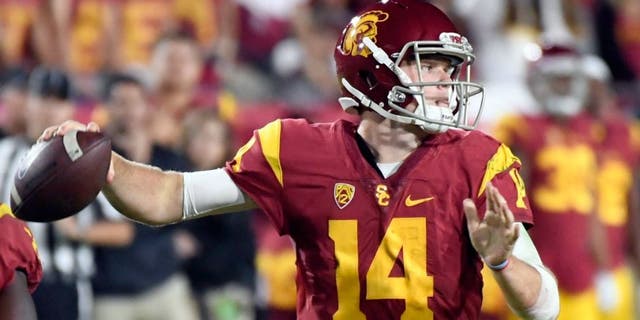 The Thursday, Oct. 27 game between USC and Cal afforded Trojans quarterback Sam Darnold a chance to return to Capistrano Beach for the weekend and reconnect with those who would not reflexively revere him as the teenager who saved USC football. Included in that cohort: Libby, the family dog, a 14-year-old black Labrador retriever who used to run the nearby hills with Darnold or guard him while he was shooting hoops in the backyard. She is still occasionally excitable but mostly spends her days lounging around the house, mellowed by her advanced age, which actually makes her the ideal companion for a player who has come to appreciate serenity where he can find it.
Darnold is the redshirt freshman quarterback who has galvanized what once appeared like a lost season in Troy. He's a burgeoning star in a place only too happy to exalt the next big thing. He is the son of a plumber/contractor and a physical education teacher and the owner of a very chill dog, and thus particularly appreciative of the oasis of sanity and calm that is always just an hour away. "For the most part, I got the same friends and family that have always been there just humbling me, and saying I'm not that great," Darnold says. "It's always great to just go back and take a deep breath and be able to relax a little bit. They just try to keep my head on straight."
They may be in the minority in downplaying what has happened over the last month and a half. Darnold has started the last six games and the Trojans have won the last five of those, and it is not unreasonable to classify the 6-foot-4, 225-pounder as the human defibrillator who's jolted a season that had flat-lined at the end of September.
During the five-game winning streak, Darnold has completed 68.3 percent of his pass attempts while throwing 18 touchdowns against just three interceptions. A Trojans offense that totaled 43 points in its first three games against power-conference opponents has averaged 40 points per outing since. He is the only quarterback in school history to have back-to-back five-touchdown games and his current passing efficiency rating of 168.1 would break the school record of 167.1 set just two years ago by Cody Kessler.
It's a steady, clinical performance in the face of a howling maelstrom -- Darnold's first start was the last-minute loss at Utah that dropped USC to 1 -- 3 -- and it suggests that the friends and family tasked with bringing Darnold back to earth a couple weekends ago didn't have a difficult chore. The forthcoming Saturday test at unbeaten No. 4 Washington and the nation's No. 11 scoring defense will be another matter. But there's a reason a team left for dead not long ago is now considered a viable threat to a national championship contender.
"He gained the respect of the players by going through a really tough competition, not winning the job and not pouting about it," Trojans offensive coordinator Tee Martin says of his quarterback. "He just continued to work and then the job came back and became his, and he's the same guy he always was. [Players] like playing with him. You see an excitement and energy when he takes the field. It kind of gives a sense of confidence as an offense, when he steps unto the huddle."
By now, the details of Darnold's ascension are familiar: Before the season, junior Max Browne was named the starting quarterback for 2016. Then USC lurched to 16 points combined against Alabama and Stanford. (The 45-point outburst against Utah State in Week 2 was relegated to anomaly status, basically.) With head coach Clay Helton looking for a spark -- "The ball wasn't moving and we weren't scoring," Helton says -- the decision was made to elevate Darnold to the starting role. Even in cameos across the first three weeks, during which Darnold threw a total of just 22 passes, the evidence mounted to support a change.
"That was one of the things you can't see in a spring [practice] or a fall training camp: How is he going to react when he's on the stage with the brightest lights?" Helton says. "I was able to see how he handles it, and it was with the utmost poise. It felt like a practice when he was out there."
Martin applies a timeworn cliché when reasoning why that was possible. He says Darnold treated every practice as if he were the starter, even during his true freshman season. But there is clearly something to Darnold's diligence in preparation. His performances last fall as a scout-team quarterback against USC's first-line defense created expectant murmurs in coach-to-coach conversations. "He made throws that it was like, My gosh," Martin says. "We'd talk about it as a staff: Did you guys see that play?"
When the starting job nevertheless went to Browne to begin this season, Darnold's approach evidently did not waver. Much of that has to do with an attitude imbued by Mike and Chris Darnold. Mike, a former football player at the University of Redlands, worked "crazy hours," Sam says, often pulling overnights at hospitals to fix plumbing issues when no one was there. Chris, an ex-volleyball player for Long Beach City College, typically arrived for her P.E. teacher job no later than 6 a.m. every day. The value of good day of work did not elude their son. Nor did one rule they established about sports: "We never quit anything," Sam Darnold says.
And he tried. Darnold showed up for freshman baseball at San Clemente High fresh off basketball season and unprepared compared to the kids who spent time on the diamond year-round. He hardly played when the season began. He informed his parents he wanted to drop baseball. His parents informed him this was not an option. By the middle of the year, Darnold says, he was a starting outfielder. "Your opportunity is going to come whenever it comes," he says. "You have to take advantage of it when it does."
That does not always translate to an efficient 1,738 yards passing across your first half-dozen career starts. The urgency to come through on the spot can be overwhelming. But Darnold heeded advice doled out by his mentor, former UTEP quarterback and NFL backup Jordan Palmer, on the eve of the Utah game: Stay within yourself.
"You have to let the game come to you," Darnold says.
That does undersell his increasing command of USC's offense. Darnold credits the passing game concepts for his precocious accuracy -- "Someone's open on every play, it's up to me to find them," he says -- but Darnold's ability to anticipate throws and his distribution of the ball suggests a far more advanced approach than simply finding the open man. His 18 touchdown passes as a starter have gone to seven different targets. In the 45 -- 24 thumping of Cal on Oct. 27, Darnold threw 25 passes, and Helton says his young quarterback was "fooled" just one time.
"Some guys just wake up in the morning and they throw the ball where they want it to go," Martin says. "Sam is one of those guys. You might look at his feet, you might look at his release and say, oh, that's not normal -- but wow, look at that throw. He makes those types of throws, where his body is going in one direction or he's falling back or you don't think the ball would go that far downfield, and it's like, wow."
Nor has Darnold been shy about making demands on a fairly accomplished group of receivers. The Trojans' wideout corps discussed it with Martin, their position coach, on the Monday before a 45 -- 20 wipeout of Oregon: They liked the fact that if Darnold had something to say, he says it. Even if he's saying something like Don't ever do that again.
"When you want to do a good job, when you want to win games, you have to be super direct to your receivers, whether they like it or not," Darnold says. "And I told them when I got the start: I'm going to say some stuff that you're not going to like, and you guys are just going to have to deal with it. But I promise it'll make us a better team."
He has followed through on that pledge. USC has a chance to upend the College Football Playoff picture this weekend with a quarterback still getting accustomed to frothing crowd noise, still getting used to getting recognized away from the football building while understanding that he now lives life under the klieg lights. ("For lack of a better term," Darnold says, "you can't be a dumbass.")
But the actual football part is, increasingly, the least of anyone's worries. The quarterback who saved USC reminds you that he's been playing the game since the third grade, loved it as soon as he first saw it on television, went out with his father to have a catch in the yard every chance he had.
Says Darnold, "It's something I was born to do."