MCREYNOLDS: We Still Don't Know What 500 Offers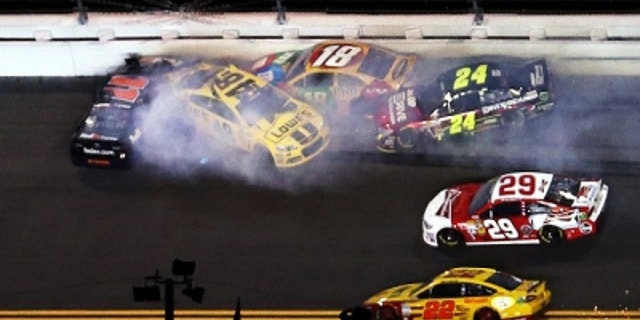 We really can't say that if you had a good finish in Saturday night's Sprint Unlimited or if you have a good run in Thursday's Duel race that finish is indicative of how you will run this Sunday in the Daytona 500 (Noon ET on FOX).
The obvious reason is that Sunday is a 500-mile race as opposed to these shorter ones. There are so many more opportunities in a long race like the Daytona 500 for things to go well or, in some cases, for things to go really badly.
The benefit to these lead-up races is that they really help the drivers and teams figure out what this new car likes and doesn't like. I have said for a number of weeks that the theme of this year's Daytona Speedweeks is simply "The Unknown" because there are so many questions about this new car that need to be answered.
With all the years of racing the Car of Tomorrow, these teams and drivers had a pretty thick notebook of data to work from. Now with this brand-new Generation 6 car, their notebooks basically don't have any pages filled out in them yet.
Racing on Saturday night in the 75-lap Unlimited helped some with filling in some blanks on the car. The downside is it was under the lights and quite cold. Those won't be anywhere near the conditions these teams will face Sunday where we are expecting sunny skies and temperatures in the low 80s for the 500.
These two Duel races on Thursday will be more like what the teams will face on Sunday, so a lot of information will be gathered from these two events.
While Saturday's race win will give confidence to Kevin Harvick, plus top finishers Tony Stewart, Joey Logano and some others, it really isn't a mirror of what to expect on Sunday.
For example, last year Matt Kenseth finished 21st in the Saturday night race. He then went on to win the Daytona 500.
You also heard it in the postrace interviews with the drivers that crashed out on Lap 15 on Saturday night, they all mentioned that they hated they didn't get more time on the track to help learn more about what this car does in the pack.
Sure, the ultimate goal was to win the race, but the reality was these teams and drivers needed the chance to collect data on this new car in hopes of using it for a big payday come Sunday on FOX.