MCREYNOLDS: Was Heat The Cause Of 'Dega issues?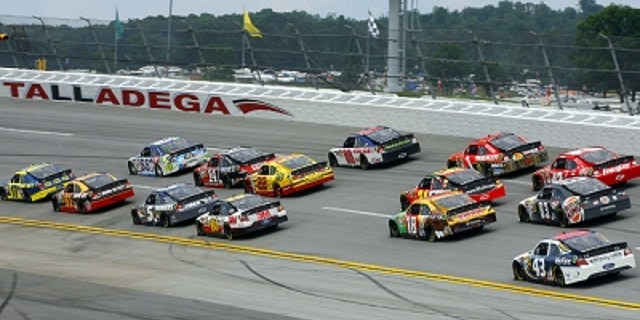 Sunday at Talladega Superspeedway was far and away the warmest day NASCAR teams have raced since the implementation of the new fuel-injection systems for 2012. I know in talking to NASCAR and the folks involved in the electronic-fuel injection project that the impact of heat is definitely next on their radar.
Sure it is still early, and I am not sure that anyone knows for certain yet that it was simply the heat causing the problems that several teams experienced with fueling and engines on Sunday. We are all assuming it has to be the cause, or the biggest contributing cause, in what we saw unfold during the start of green-flag pit stops late in that race. Drivers were running out of fuel on late runs, causing incidents on the track.
On top of that you had the Chevrolets of Jeff Gordon, Jimmie Johnson, Regan Smith and Ryan Newman have pressure issues with the oil pump. That leads me to speculate that the problems had nothing to do with EFI.
Gordon was very vocal after his wreck about dissatisfaction with the package these teams have to work in and hoped it would be addressed. To be fair, even though Jeff and Jimmie had issues you saw their other two teammates, Kasey Kahne and Dale Earnhardt Jr., finish fourth and ninth, respectively.
Our next restrictor-plate race is at Daytona International Speedway in July. Some are asking if NASCAR will make changes to the package before then. This is the box NASAR finds itself in. If it opens up the cooling system or gives teams a bigger radiator or even moves the radiator opening then it will just revert back to the race of last year and the two-car tandem racing will return.
I liked the kind of racing we saw Sunday at Talladega Superspeedway. We had big packs, sometimes with drivers racing three- and four-wide. When you add to that it was sometimes eight or nine rows deep, well the excitement meter to me was being pegged.
These guys were still able to push each other when needed but only for a handful of laps and then the pusher would need to break off and get air to the nose of the car. To me it seemed like we had a good balance.
My hope is that NASCAR is able to address these cooling issues now with the manufacturers for the new 2013 bodies that will be on the track next season and I believe they will.
Don't get me wrong, the goal is still to break up the two-car tandem racing, but I think that can also be accomplished in ways with the new bodies that will not put the teams in their current box when it comes to the cooling and overheating issues.
If you look at our last three or four races, the cautions have mainly been for debris or someone cutting a tire down. Naturally when you talk about Talladega your first thought is about "The Big One" and torn-up race cars. Well, Sunday there definitely were some torn-up race cars.
Talladega also once again proved what I say all the time: Fans can't leave a race early because someone is so dominant assuming that it is a given that they are going to win. You have to wait until the checkered flag to find out who your winner is. That was the case Sunday with Matt Kenseth dominating that race, but yet Brad Kesolowski coming home as the winner.
Matt seemed as strong as he was back in February, if not stronger, when he won the Daytona 500. We all came here, based on what we saw back at Daytona, with the assumption that the Blue Oval Boys were going to be the ones to beat. While Matt in his No. 17 Ford almost led half of Sunday's race, it was a Dodge finishing first followed by a Toyota.
You really have to tip your hat to Keselowski. That young man is one smart son of a gun. He pulled a move there at the end that caught second-place driver Kyle Busch off guard. Brad entered high in Turns 3 and 4, but dove low to try and break up the two-car tandem to keep Kyle from pulling out at the end and pass for the win.
Remember that Kyle was leading the Nationwide race on Saturday coming to the flag when teammate Joey Logano pulled out from behind him and beat him to the line. So here Kyle was on Sunday – same scenario but this time he was in second. You know he simply had to be licking his chops thinking he had Brad right where he wanted him.
The problem for Kyle was Brad didn't play along. Brad had his own ideas of how things were going to play out, so when he pulled his move on Kyle and broke the draft, Kyle didn't have enough time to get back to Brad and attempt to pass him.
Brad is a really intelligent young man and I don't know if any of us give him remotely the credit he is due. He is like a sponge. He pays attention, he listens and just absorbs things. He is very engaged with his race team and car. Now the young man has his second win of the year and, despite what might happen in the points, he is all but guaranteed a spot in the 2012 Chase for the Sprint Cup.