MCREYNOLDS: Teams Tested At Phoenix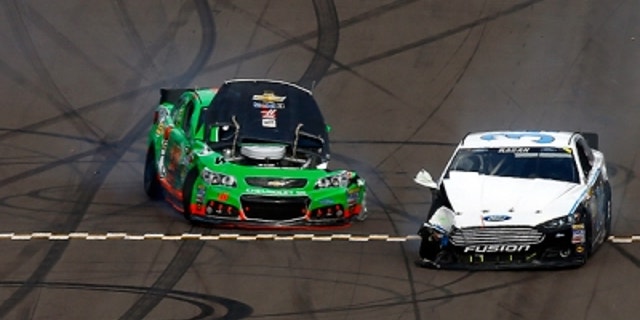 NEWYou can now listen to Fox News articles!
Well, the second race of our 2013 NASCAR Sprint Cup season is now in the books and I have to say that we had battles going on almost everywhere on the track during the Subway 500 on Sunday.
A part of what really mixed things up at Phoenix International Raceway was the number of cautions and the number of different drivers on different pitting agendas.
When it came down to that last 70 laps in the race, we were pretty confident that everyone could make it on fuel, but there was still some lingering doubt. Then when Joey Logano's Ford ran out of gas, that doubt got even bigger. The caution that happened with three laps to go brought us into a green-white-checkered scenario.
Obviously that late race excitement amped the drama up even more. I think Sunday's race was good and I think we had a great finish. I continue to believe that as the teams and drivers learn more about this new car, then things are going to get even better.
I am very anxious to get to a track like where we are headed this weekend – Las Vegas Motor Speedway. That's a high-speed, high-banked track which doesn't have the grip of a track like Phoenix. The Phoenix racing surface is much newer than what we will have this weekend. Then in a few weeks when we get to Auto Club Speedway in California, the grip level isn't as great there either.
I looked at the finishing order of Sunday's race and there were some drivers on there that definitely needed a good run. Jeff Burton got a top-10 finish. That was much needed for him and his team. AJ Allmendinger is another amazing story. This team got a top-10 finish with Regan Smith at Daytona.
They roll into Phoenix and AJ Allmendinger hadn't even been in this new Generation 6 car until this weekend and brings it home in 11th place. To me that was really impressive. So it was a great day for AJ, but it is also a really good start for the No. 51 team early in this 2013 season.
Finally, I am pretty sure that folks are going to be coming down on Casey Mears believing he cost Dale Earnhardt Jr. the win, but Casey got a top-15 finish after starting in the rear of the field. He was the slowest qualifier and the only reason he moved up some when the race started was the four drivers who had to go to the rear of the field behind him.