MCREYNOLDS: NASCAR Fans Wonder Who Wins Next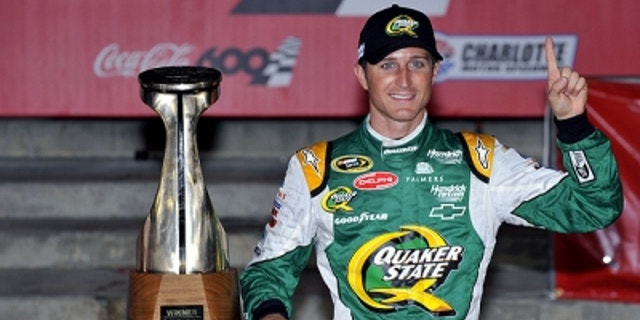 I am really happy for Clint Bowyer, who won at Sonoma last Sunday. Clint actually continues a pattern there that has developed over the last few years. He became the eighth different NASCAR Sprint Cup race winner at Sonoma in the last eight years.
What's also interesting is that like most of the other seven winners, Clint was not one of the guys we were talking about leading up to Sunday as a potential favorite there. Boy, did he dominate the race though. He led 71 of the 112 laps.
Crew chief Brian Pattie and the entire No. 15 Michael Waltrip Racing team had a strategy and executed it to perfection. Even with Kurt Busch rubbing on his back bumper, Clint never bobbled. Even when it came down to a green-white-checker finish, he was solid as a rock throughout every corner of those last few laps.
In addition to all this, Clint becomes the 12th different winner in just 16 races of our 2012 season. That alone is pretty amazing. Last year we had 18 different winners all year and here we are sitting at 12 winners while we are still two races away from reaching the halfway point of the season.
I think it is a pretty good bet we will bust through that 18-winner number. We still have a lot of big names who have not won yet. You have the three Richard Childress Racing teams. You have Jeff Gordon. You have Martin Truex Jr. who is ever-so close.
We are also seeing the exact same thing this season as we did last season. There is no clear runaway favorite. It played out that way in 2011 until the Chase started and that's when Tony Stewart came to life and dominated in those 10 final races.
Sure over the last month and a half we've seen the reemergence of Hendrick Motorsports and its strength. Jimmie Johnson, Dale Earnhardt Jr. and Kasey Kahne have all won. We are, however, seeing somewhat of a changing of the guard this year.
Look how incredibly strong Michael Waltrip Racing has become. That organization has two of its cars in the top 10 in points. It now has a win. MWR has four poles. In addition to all that it has its third car, the No. 55 entry, running really well with Mark Martin, Brian Vickers and Michael Waltrip sharing time behind the wheel.
To me, unpredictability is what makes NASCAR Sprint Cup series racing exciting. It is the reason folks tune in or buy the tickets to attend. If you know what to expect, then folks tend to drift away from it a little bit.
Expect the unexpected - it is great for our sport of NASCAR.