MCREYNOLDS: Long Green-Flag Runs No Real Surprise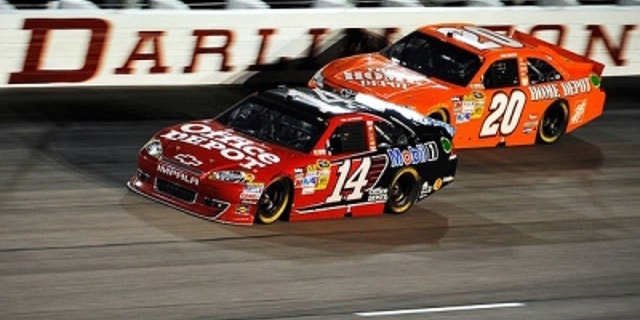 You hear us say it over and over, but it bears repeating — the level of competition in the NASCAR Sprint Cup series means almost anyone can win on any given Sunday on any given racetrack.
Check out the drivers locked into the NASCAR Sprint All-Star Race
Just look at Kurt Busch Saturday night at Darlington Raceway.
He is driving for Phoenix Racing, a very small team, yet they are ultra-competitive. As we saw Saturday night, though, their Achilles Heel was the pit crew. Unfortunately, Busch lost spots on almost every stop all night long. For 480 miles he had a car that, combined with his God-given ability behind the wheel, was going to produce a solid top-10 finish and maybe even squeeze a top five out of it. That team is doing all this without any sponsorship and again, is a very small team.
Unfortunately, the race was 20 miles longer. Kurt got into the wall and then it went downhill from there. If he can keep his emotions in check and continue to perform has he has so far this year, I cannot image this time next year he isn't back in a top-tier ride.
Kurt doesn't have to audition to anyone as a race-car driver. He is in the record books as a multirace winner and one of our champions. What he does have to prove to everyone is that he can keep his emotions in check during times of adversity like he experienced in those last 20 miles at the Southern 500 Saturday night.
I know there has been a lot of talk this year about too few cautions. I doesn't matter to me what your position is on it — whether you like it or don't like it — the bottom line is I really believe the lack of caution flags speaks volumes to the caliber of the skill of these race car drivers.
Think back to Saturday night at Darlington, of all tracks. They ran almost 200 caution-free laps. That's over half the race. That's amazing. Those guys were racing hard, yet still didn't beat and bang into each other bringing out the yellow flag in those early laps.
I think you also have to tip your hat to these race teams. They are giving the guys and gals the cars that are almost bulletproof week after week. The engines aren't blowing up. The cars aren't following apart. When you combine a solidly built car with the best drivers in all of motorsports, it should come as no surprise that the yellow flag isn't flying as much this year.
It makes for a unique year and we still have to get to next week and run the Coca-Cola 600 before we can say we are even one-third of the way through the 2012 NASCAR Sprint Cup season. Go take a look at the list so far of the drivers that are running well and the even bigger list of those drivers that haven't won a race yet.
As a whole, Richard Childress Racing hasn't won in 2012. The drivers over at Michael Waltrip Racing haven't visited Victory Lane yet either. Heck, we are coming up on the one-year anniversary of Carl Edwards winning the Sprint All-Star Race. That was the last Sprint Cup Victory Lane he has enjoyed, and it wasn't even a points event. Saturday night saw the first and only Hendrick driver to win a race in 2012 so far.
I predict the tension is going to do nothing but grow as we get into the summer months. There are guys like Jeff Gordon who probably aren't going to make the Chase for the Sprint Cup on points, but will need to focus solely on winning races to snag one of the two Chase wild-card spots.
Naturally this weekend is not a points race. The Sprint All-Star Race is another good indicator of the health and unpredictability of our sport. This will be the 27th Sprint All-Star Race, yet we've had 19 different winners. Only one driver has ever one it more than twice and that was my old boss, Dale Earnhardt Sr., who won it three times.
I think it is some crazy number like in the last 12 all-star events, we have had 11 different winners. That's again another clear signal to me of the level of competition that no one can dominate a non-points race, either, in our sport.
We can sit here and name all the favorites that should and could win the race, but honestly, you might as well go ahead and name them all. They are all that good. Think about it for a second, they wouldn't even be in the Sprint All-Star Race if they weren't.