MCREYNOLDS: Hamlin's Team Changes Working Well Early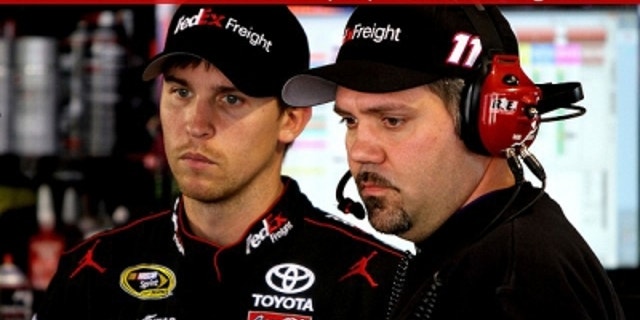 Denny Hamlin sure has ridden the roller coaster the last few years. Think back to 2010 when he won eight races and was vying for the championship right up to and including the last race of the season at Homestead-Miami Speedway.
He ended up finishing second to Jimmie Johnson that season.
In 2011, it was literally the completely other end of the spectrum for he and his Joe Gibbs Racing team. Yes, they won the June Michigan race, but they limped into the Chase for the Sprint Cup last year and much like their season, they really weren't a factor. At the end of the season the team made wholesale changes, including in the crew chief position.
Now, 2012 is really starting to look like 2010. We've had eight NASCAR Sprint Cup races this year. Denny has now won two races and a pole position plus has three top fives and four top 10s so far. On top of that, he finds himself fifth in the points, only 23 back of leader Greg Biffle.
Even when races this year don't go their way – and the race at Auto Club Speedway a month ago comes to mind – Denny still has a bounce in his step that you never saw at all in 2011. His confidence is high and he really does remind me of the Denny Hamlin we watched in 2010.
So now Denny is coming off a win and is carrying all that momentum into his home track – Richmond. He runs well there. He's won there. He loves the place. So he's one in my book that I believe will be a factor again this weekend.
Obviously the changes in the offseason seem to be paying off. Denny and former crew chief Mike Ford won a lot of races together. They even made the Chase every single season. You see it in almost all driver/crew chief combinations – little by little you start drifting apart. I think those two started to struggle with each other during those last couple of races in the 2010 Chase.
I simply don't think they were ever able to get back together and the performance in 2011 seemed to really prove that out. They knew it. Team owner Joe Gibbs and his son and team president J.D. Gibbs knew it. So a change was made.
Darrell Waltrip, Mike Joy and myself met with Greg Biffle last week at Kansas Speedway. He said he went through the exact same experience. Roush Fenway Racing made a change halfway through the 2011 season and just look at the effect it has had on Greg and the team. Greg said the organization changed all but three members of that No. 16 team. He told us now they all believe in him and he believes in all of them.
I say this all the time – a driver/crew chief relationship is hard to keep going. It's really no different than a husband and wife who have been married for a number of years. You have to work very hard at it to keep your relationship healthy. That to me is why it is so phenomenal that Jimmie Johnson and Chad Knaus are still together and actually working on their 11th year together.
The other irony in all this is now Denny has won two races with Tony Stewart's ex-crew chief, which by the way is the exact same amount Tony has won this year with his new crew chief. I am not sure if any of that is on the minds of Denny, Darian, Tony and crew chief Steve Addington, but to be honest, I do get a sense the others in the No. 14 Stewart team have it on their mind.
What's going to be fun to watch is if the points tighten up to the point where both cars are parked next to each other in the garage area in the future. That should be interesting to watch those conversations between former this and former that take place.