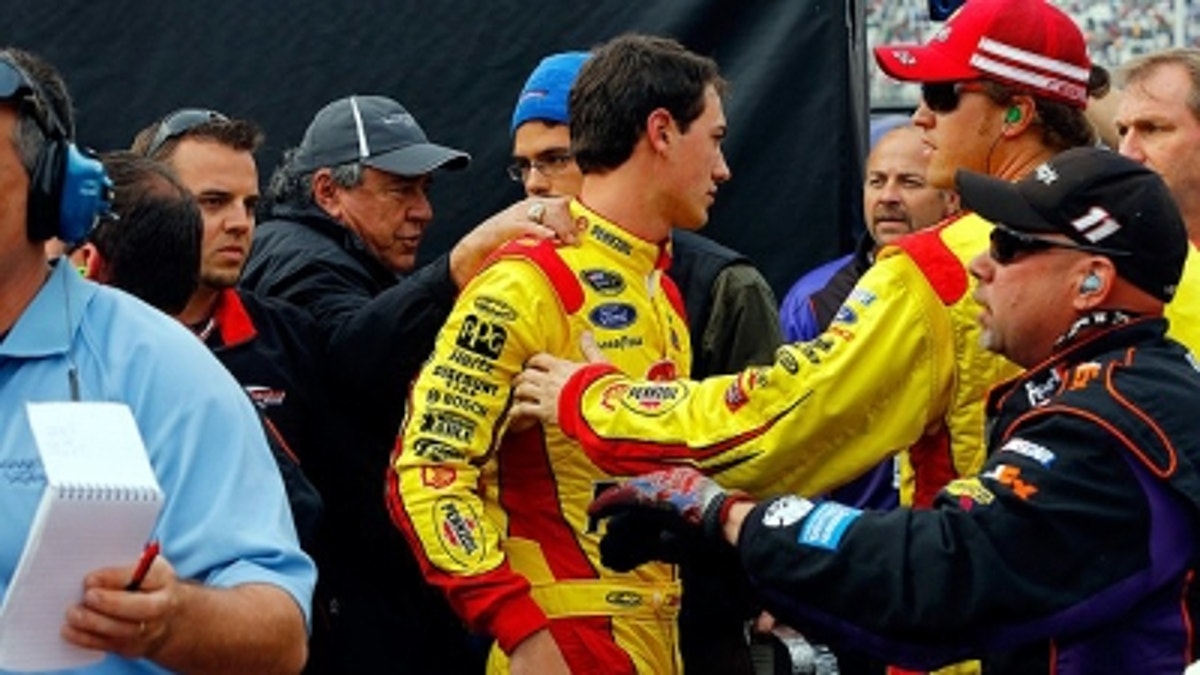 Let me just say right up front: If you were either at the race at Bristol Motor Speedway on Sunday or at home watching our NASCAR on FOX coverage from your couch and didn't like the racing, well then there simply is no pleasing you. Yes, that's how spectacular I felt the action was at Bristol.
Obviously everyone is buzzing about what happened on the track between Denny Hamlin and Joey Logano. I certainly am hesitant to classify Denny spinning out Joey as a racing accident.
What I found interesting was it seemed Joey was more aggressive after the accident than before. Darrell Waltrip mentioned it during our NASCAR on FOX broadcast and I agree with him, Joey should have been more aggressive trying to get around Jeff Gordon.
Now I know that the last thing Joey wanted to do was rough up Jeff Gordon. After Denny spun out Joey and they got Joey's car repaired, Joey sure seemed to drive a lot more aggressively. Obviously he was trying to catch back up to that No. 11 car and give Hamlin some payback.
Now I know that Denny Hamlin downplayed it in his postrace interview, but the fact is he was upset with Joey over what happened at Daytona, a race after which Hamlin tweeted a comment questioning Logano's driving style. So here we are with the laps winding down at Bristol and its go time. So evidently Denny figured if Joey was not going to go, then Denny was going to move him out of the way, which obviously he did.
I mean, I do feel bad for Joey because he had an awfully good car the entire race. Obviously the wreck cost him a shot at the win and a top-10 finish. Joey ended up finishing 17th. Then after the race there was a lot of pushing and shoving between Denny's crew and Joey when he tried to confront Denny.
Last year, these two drivers were teammates at Joe Gibbs Racing. There really wasn't a lot of love lost over their four years together there. I think it would be safe to say it never was a bosom-buddy relationship. So I am sure this is just a carryover from not being the best of teammates and then Denny's anger at Joey for what happened at Daytona back in February.
So I know race fans are asking if there will be payback in California this weekend. I, for one, sure hope not. With the speeds these cars will be running on Sunday at Auto Club Speedway, no one wants to see any kind of retribution take place.
Take a look at the 2013 NASCAR Sprint Cup schedule and see where we go following the race at California this weekend and then a week off for Easter. We head right back to a short track at a place called Martinsville Speedway. So if there is a vendetta or a payback coming, Martinsville will be the spot.
I mean, all this has to be settled between these two drivers. The big question is, will Denny and Joey settle it off the track, or will it continue to escalate on the track? To be honest, I really don't see either one calling each other. I would be shocked to hear that they did.
With that said, if I am either one's crew chief, I am sitting down with my driver and telling him we need to look at the big picture and stay focused on that. I am sure internally both teams are telling their driver that he needs to move on. Other than Denny's third-place finish at Phoenix, it's been a bumpy start for both teams this season.
Both Denny Hamlin and Joey Logano really need to worry about that more than they need to worry about escalating their personal feud.