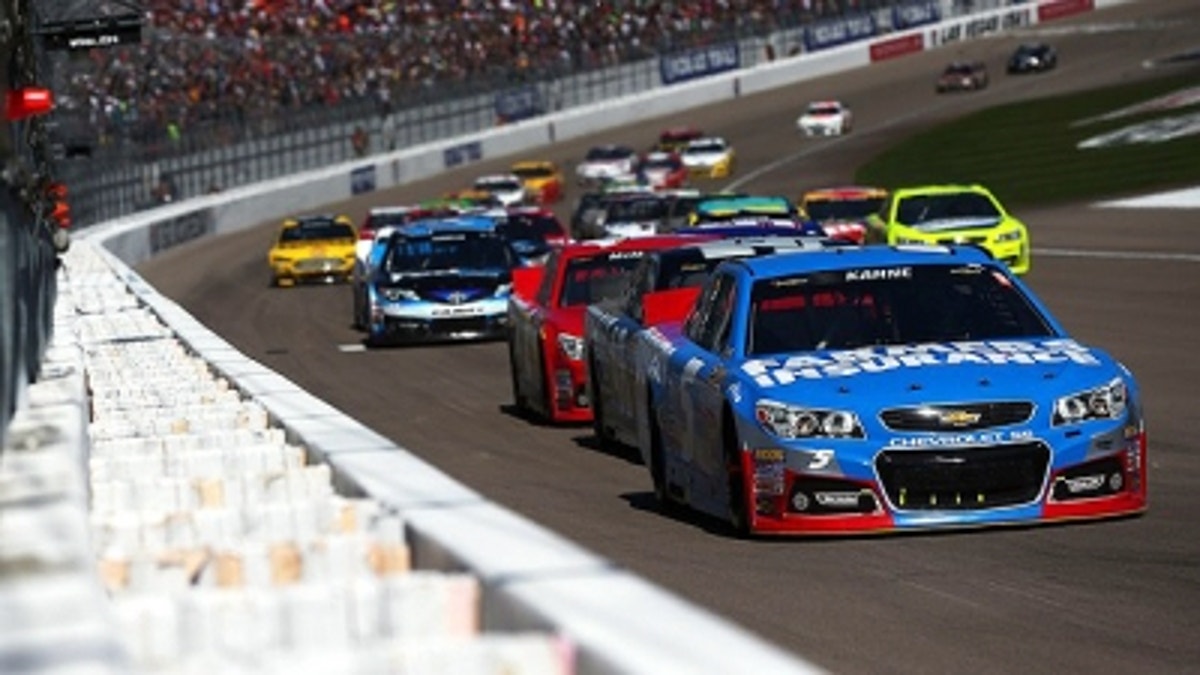 When NASCAR started working with the manufacturers, the teams, started developing this car, it was looking at every single one of our 36 Sprint Cup points races, at all 23 tracks. I just felt like the big dot on the radar and where officials really wanted to make things better and enhance the racing was at intermediate speedways, the 1.5- and 2-mile tracks.
We run right at half of our races on this type of a track.
So I felt like Vegas Motor Speedway, it's a high-speed track — faster than 200 mph in the corner — track with 20 degrees of banking, not much grip and a lot of options as far as grooves for drivers to race in. I just was so optimistic coming into this race with this new Generation-6 car — and it just didn't let us down.
We had some stops under caution, some long green-flag runs that led to green-flag stops, and we had 22 lead changes. That's a lot of lead changes for a Vegas race. It wasn't like it was because we had a bunch of cautions where people were staying out, people were pitting, some people didn't pit. We had them because we had racing on the racetrack. We had racing for the lead.
The racing was there at the end, even for third between Kyle Busch and Brad Keselowski going door handle to door handle and swapping back and forth.
I think we only will get better. It was pretty darn good Sunday in the Kobalt Tools 400, but it will only get better. Taking a step back and looking at the big picture, we are three races into this season. The drivers have raced at three completely different racetracks, we've had three different winners, we've had three different organizations win and we have had three different manufacturers as winners.
I am over the "we can't pass in this race car" conversation.
Kasey Kahne said it in his postrace. He said he drove his guts out every single lap. That's what I want to hear.
I don't want to hear drivers say how easy it was to drive this car, how easy it was to race. I want to hear people talk about how hard it is. Because you know what? That's the era I grew up in. That's how racing was through most of my crew chief years. Now I don't see how anybody can say anything bad about this car, about our racing.
We had a lot of interesting stories unwind in Las Vegas. Matt Kenseth, because of the way the field was set, started pretty deep in the field and he just kept coming, little by little. Then, obviously, his crew chief, Jason Ratcliff, rolled the dice there on the last stop and took fuel only and got him out front and made a really good race between Kenseth and Kahne for the win.
Brad Keselowski, our champion from last year, has three consecutive top-five finishes. Carl Edwards, the winner from Phoenix — he had only three top-five finishes total last year and now he already has two in the first three races.
Kahne, coming off a dismal start to the first two races, led the most laps. The problem Kahne and crew had on that last pit stop, trying to time leaving with Tony Stewart coming in — and I don't know that anybody did anything wrong — that, obviously, was a difference.
And then Kyle Busch, driving up there to take the lead, getting the pit-road speeding penalty on Lap 46, finally works his way back to take the lead. He faded there a little bit at the end, but if you look at his first two starts, he has to be pretty happy with a fourth-place finish.
Then there's the storyline of Kenseth in race No. 3 of 2013 — gets his first win with Joe Gibbs Racing, his 25th win, and gets it on his birthday. The storylines of this race are absolutely endless.
Looking back, there are a lot of tracks that have been added to our schedule the past few years that we only go to once a year, such as Las Vegas and Chicago. At Las Vegas, because of the weather out here — and I know we had our challenges out here Friday, but that was pretty unusual —the weather, the energy, the excitement of this town and this racetrack, this is one of those that, gosh, I almost wish we did come here twice a year.
I looked at the crowd on Saturday for the Nationwide Series race and what an unbelievable crowd for a Nationwide race. There's just something about this city, NASCAR and this racetrack. I think they all complement one another. You couldn't have asked for any better weather on Sunday, and what an unbelievable crowd.
And one final thought — there were a number of mistakes on pit road on Sunday. For some reason, we see that a lot here at Vegas. I don't know if it's because of the way you have to get on pit road, I don't know if it's the number of green-flag stops, but I'm sure that is something that will be addressed. We had a total of eight different penalties, most notably Kyle Busch and Denny Hamlin speeding coming onto pit road under green-flag stops.
Those will be addressed, because one thing about next week at Bristol, you make those mistakes, you probably take yourself off the list of drivers who can go to Victory Lane.