MCREYNOLDS: Daytona Tough On Competitors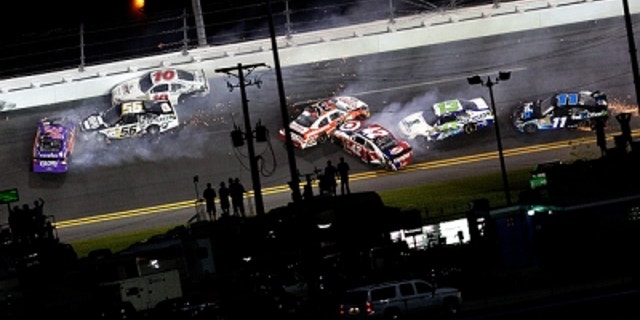 Saturday night racing under the lights at Daytona International Speedway sure did have an impact on folks gunning for the 2012 Chase for the Sprint Cup, especially those that are on the edge or just on the outside wanting in.
Kyle Busch was involved in a number of incidents Saturday night. Kasey Kahne, who started third and was also involved in some of it, was able to recover and finish seventh.
Looking at the drivers from 12th on back in the NASCAR Sprint Cup points, which includes the four drivers who have a win, now with eight races to go they are each one full race out in points.
If you look at the races remaining until the Chase field is set, you'll see we still have a road course and two short-track races to be run. Naturally there is a good possibility those races will shake things up as well.
This puts guys like Kyle Busch, Joey Logano, Ryan Newman and Kahne, who all have a single win and are outside the top 10 in points, into a different mindset. They need to forget about points and go for the win to pretty much guarantee themselves one of the two wild-card spots.
What is also interesting about Joey is with his second top-five finish of the season, he has taken over the second wild-card spot. Ironically it is his teammate, Kyle Busch, that has the first spot.
Daytona also saw the backside of the top 10 in points take a beating. Kevin Harvick was involved in the last wreck. Denny Hamlin was involved in the next-to-the-last wreck. Teammates Martin Truex Jr. and Clint Bowyer were also involved. When you are in their position in the top 10, you spend a lot of time looking over your shoulder keeping an eye on the drivers 11th on back to see if they are closing in on you or not.
Clint Bowyer, for example, doesn't really care how many points behind leader Matt Kenseth he is. What he concentrates and focuses on is how many points ahead of the 11th-place driver he is. Carl Edwards got his ninth top-10 finish, which finds him 11th in points. Right now with that big goose egg of his in the win column, he is not in the Chase field.
Remember, this is the guy that tied for the championship last year but lost it on a tie-breaker to Tony Stewart. This goes back to what we tell you each and every week about how tough the competition is in the NASCAR Sprint Cup Series. It's that old maxim of, "What you did in the past was nice, but it is what you are doing today that really matters."
Saturday night at Daytona basically played out like we felt it would. We ran 80 laps before our first caution. Then, as normal on a restrictor-plate track, with the laps winding down, the tension and action pick up. I think that's why we saw something like two to three big wrecks in the last 15 to 25 laps.
The other irony that I saw play out yet again on the superspeedway tracks was guys that tried to be conservative all race long and hang out in the back only to be caught up in a wreck there near the end.
To say that Tony Stewart had an interesting weekend at Daytona would be an understatement. He qualified on the outside pole but his time was disallowed for an open cooling hose into the cockpit. So his philosophy of probably planning to run up front all night switched to a conservative mode after being forced to start 42nd following the penalty.
He stayed in the back so long in the early going that at one point he almost lost the draft. I think that was a wake-up call for him. So after he got caught back up with the caution on Lap 81, he started marching to the front and pulled off his fourth Daytona July win in the last eight races there. It was Tony's 47th win and moves him into sole possession of 14th on NASCAR's all-time Cup wins list. It was also his 18th all-time victory at Daytona which is second only to Dale Earnhardt Sr.'s 19 wins.
Matt Kenseth and teammate Greg Biffle once again looked as strong in July at Daytona as they did in February. Combined, those two drivers led 126 of the 160 laps in the race. They just got separated in Turns 1 and 2 when all that crashing started on the white-flag lap. Tony had a great head of steam going and when those two split, he was able to keep his run going down the backstretch and bring his No. 14 Chevrolet home with the checkered flag.