MCREYNOLDS: Ambrose Win Changes Chase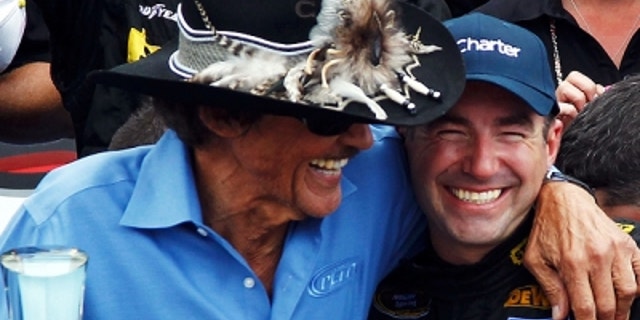 We saw an incredible road-course race Sunday at Watkins Glen.
You would have to look long and hard to find a finish like that on a road course. For that matter, other than maybe Daytona and Talladega — where we know that just because you are leading the white-flag lap you probably wouldn't be the winner of the event — you won't see a finish like we did Sunday very often.
Think about the fact Kyle Busch took the white flag as the race leader, and it would be a natural assumption to assume he was going to get his second win of the season. However, that single lap saw three different leaders, with Marcos Ambrose finally coming out on top. Busch ended up getting wrecked, and Ambrose and Brad Keselowski beat and banged on each other all the way to the checkered flag.
All of us definitely got our money's worth Sunday. The two guys who have to be beside themselves are Busch, naturally, and Jeff Gordon. As I mentioned, Busch saw his second win of 2012 slip through his fingers. Gordon, meanwhile, battled, scratched and clawed to get to the front only to be wrecked out, finishing 21st.
Ryan Newman, who also has a single win this year, like Gordon, finished 11th, so the wild-card points battle between Newman, Busch and Gordon got even tighter. They are now separated by only 10 points. So while everyone in the top 10 is focused on winning again in the remaining four regular-season races, there are five guys now lumped together for one wild-card spot.
Kasey Kahne already has two wins and right now has the first wild-card spot. Then you have five guys — Newman, Gordon, Busch, Joey Logano and now Marcos Ambrose — who all have one win and really need a second win to all but guarantee them that last wild-card spot.
I just love the fact Ambrose vaulted himself into the wild-card picture. Here's a guy that has had only one top-five finish since his win at Watkins Glen a year ago. That came at Charlotte last October. So far this year they have been basically fighting to stay in the top 20 in points, but this is the great thing about the wild-card spots. It gives a guy like Ambrose, who was sitting 18th in the points, a legitimate shot of making the 2012 NASCAR Sprint Cup Chase.
They know their only hope to make the Chase, like Logano, is to get a second win in these next four races. Now they really have to go to work because there isn't another road-course event this year. These remaining four races are short tracks and oval tracks. That said, Ambrose did sit on the pole at Michigan back in June. Even though Ambrose and his team lost the handle on the car in that race, they will be carrying a lot of momentum back into Michigan this weekend.
This gives new hope to people like Carl Edwards, one of our sports biggest stars, who remain on the outside of the Chase looking in. Edwards has only had two top-five finishes all year but still finds himself 12th in the points. A win this weekend at Michigan would immediately jump-start his Chase dreams.
Despite being wrecked out on the last lap Sunday, Busch has to be optimistic about his Chase hopes. Of his 24 NASCAR Sprint Cup wins, 11 of them have come on these four remaining tracks we are about to visit.
Gordon, now sitting 14th in the points, is basically in the same boat. He can and has won at any track. For that matter, he won last September at Atlanta over the Labor Day weekend.
I also want to give a tip of the hat to a couple drivers on their performance at Watkins Glen. The first would be Sam Hornish Jr., who finished fifth. For a guy who was put into that race car under very unusual circumstances, to come out of Watkins Glen with a fifth-place finish has to do a world of good for his and that race team's confidence. That race team has had only one other top-five finish all year long, and that was back at Martinsville in April.
What has also been very impressive is the difference crew chief Todd Berrier has made with Regan Smith and the No. 78 car. This was Berrier's third race since he joined the team, and here they sit with two consecutive top-10 finishes. Think about this too, Smith, Berrier and Co. actually carried the banner for all the cars using the Earnhardt-Childress engine package as the highest finisher. That's just really impressive to me.
I know NASCAR is going to take a beating from everyone because they didn't throw a caution for the oil on the track that ended up causing Busch to wreck out. They rely on those corner workers to radio the tower if there are any issues, but they never got a call about the oil and so the caution wasn't thrown.
I think it also bears pointing out that Ambrose even said you couldn't see the oil on the track but you could feel it. So I really don't think NASCAR needs to be beaten up over that.
So now we are headed to the Irish Hills and the race Sunday at Michigan. I will be interested to see how the speeds are since this is the second race since they repaved the track. Pocono saw a drop off in speeds from their second race on their repave, so I am curious to see if that happens this weekend too.
So while at the top of the field things are pretty well set for the Chase, keep your eyes on the bottom of the Chase field and especially those vying for the two wild-card spots. I can't promise it will change every week in these last four races, but I can promise everyone will be talking about it.