McLeod blog: Former Gophers Haula, Bischoff head to Las Vegas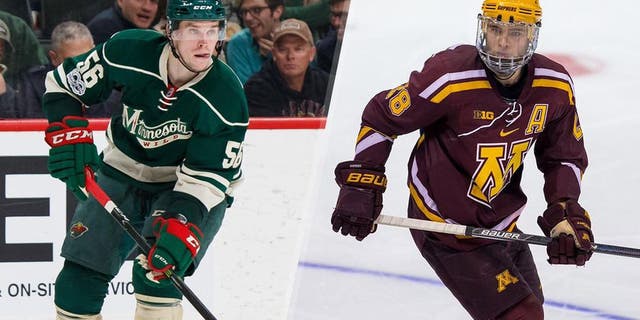 When Eric Haula played at the University of Minnesota, he electrified crowds and perplexed defenses with his puck-handling and goal-scoring prowess. That propelled him into the National Hockey League where he played steadily for the Minnesota Wild.
Now, Haula is headed for the NHLs newest playground: Las Vegas. He was selected by the expansion Vegas Golden Knights in the NHL Expansion Draft on Wednesday night.
A former Finnish World Cup player, Haula was drafted in the seventh round (182nd overall) by the New York Islanders in the 2009 NHL Entry Draft. He has recorded 89 points in 266 NHL games, all with the Wild.
Haula will be joined by a Golden Gophers favorite of more recent vintage, defenseman Jake Bischoff. Jake helped Minnesota to the 2015 Big Ten championship and most recently patrolled the blue line for the AHL Bridgeport Sound Tigers. He joined that team following the 2016-17 Gophers season and scored two goals and one assist in six games. The Grand Rapids, Minn., natives dad, Grant, was a Gophers standout in the 1980s.
While Haula was claimed in the expansion draft, Bischoff was acquired in a flurry of last-minute pre-draft trades by Golden Knights general manager George McPhee. Wednesdays acquisitions culminated a year of intense preparations by the Vegas front office.
We had two objectives, McPhee said. One was to put an entertaining team on the ice that the NHL and Las Vegas can be proud of. The second was to acquire prospects and draft picks that can help us build our team in the future.
Who will stay with the big club and who will be trade fodder is still up in the air for all but a few of the names on the new clubs expansion roster. Regardless, its an exciting time to be a Las Vegas Golden Knight and its nice to know that at least a little Minnesota flavor will season the NHLs second desert franchise.
DOUG McLEOD is a five-time Emmy Award-winning play-by-play announcer for Fox Sports and a longtime voice of Division I and NHL hockey. This is his 21st season calling Golden Gopher hockey games.