McIlroy snaps 3-wood in 2 pieces at British Open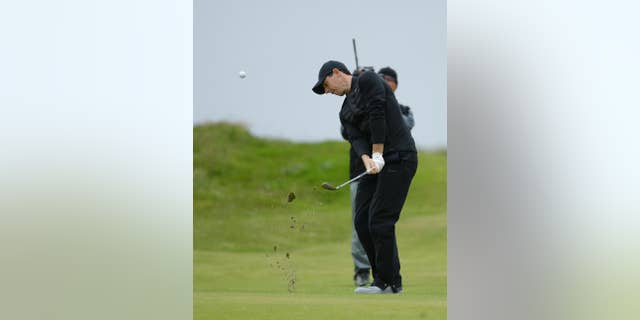 NEWYou can now listen to Fox News articles!
TROON, Scotland – Rory McIlroy's 3-wood already wasn't in the best shape, so it had no chance when he chucked the club to the ground in frustration after a bad shot at the British Open.
It snapped in two.
Add it to the list of club-throwing episodes from one of the world's top golfers.
McIlroy had slipped out of realistic contention during the third round at Royal Troon on Saturday when he pushed right his approach shot from the middle of the fairway. He reacted by hurling the 3-wood to the ground in front of him, and the head flew off.
"The club head came loose on it earlier on the week and I had to get the head re-glued. So it was probably partly to do with that," McIlroy said, "and partly the throw as well."
McIlroy was already frustrated after making three bogeys in his first five holes. He dropped another shot at No. 15 after letting a 3-iron from the fairway slip right, and things came to a head, so to speak, on the next hole.
"I did the exact same thing there," McIlroy said. "So it was basically just a bad swing. No one likes to make the same mistake twice.
"I'll get it reshafted tonight. The truck's here, so I'll have it reshafted, and all will be well in the morning."
McIlroy shot 2-over 73 and was even par for the tournament. There was little chance of the Northern Irishman lifting the claret jug for the second time in three years.
There's precedent in regard to McIlroy throwing clubs. He did so at the BMW PGA Championship at Wentworth in 2012 and '15, and perhaps more famously at the Cadillac Championship at Doral last year.
After hitting his second shot into the water on the par-5 eighth hole, McIlroy heaved his club some 50 yards into the lake.
"Looking back," he said at the time, "it isn't one of my proudest moments."
McIlroy has made more of a splash off the course at Troon this year, mostly because of his explosive pre-tournament news conference in which he called out golf for its lax drug-testing procedures and questioned the relevance of his sport being part of the Olympics.
He was caught on the wrong side of the draw in the first two days, saying on Friday he felt he played better than his 2-under total suggested.
Going into the third round, McIlroy still thought he could catch Phil Mickelson and Henrik Stenson at the top of the leaderboard. His bad start, when he missed short putts on Nos. 1 and 3, ended those hopes.
"It was a tough day," he said. "I just wish I had gotten off to a better start."