McGregor on Aldo: 'I'm going to butcher him and end his career'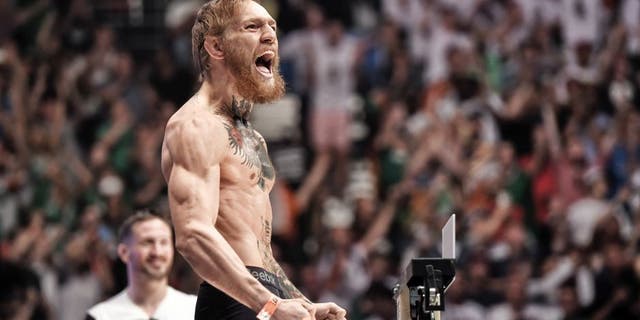 NEWYou can now listen to Fox News articles!
Following a full season of filming "The Ultimate Fighter" opposite Urijah Faber, Conor McGregor is just about to kick off his training camp to prepare for his Dec. 12 showdown against featherweight champion Jose Aldo.
During the final day of the show before McGregor left "The Ultimate Fighter" gym for good, Aldo made an appearance for a faceoff before their fight at UFC 194.
The day the faceoff happened, UFC president Dana White documented the intense stare down between Aldo and McGregor although unlike many past appearances the two fighters didn't have to be separated when it was over.
According to McGregor, he actually approached Aldo and shook his hand when he arrived at the gym.
Although once you hear the entire version of McGregor's "cordial" greeting, it's hard to imagine Aldo actually enjoyed any of it.
"I saw him on the final day of 'The Ultimate Fighter' and I said to him, 'I didn't think I'd see you again.' I was actually happy to see him," McGregor told FOX Sports. "I went over and shook his hand and cuddled him and told him everything will be OK -- it will be over soon. Just show up and fight like a man and stop running."
McGregor said his tactic ahead of this matchup against Aldo will be different than their first scheduled fight in July when the Brazilian was forced to withdraw just two weeks out from the bout.
In the lead up to their previous fight, McGregor did just about anything and everything to push Aldo to the breaking point including one moment in Ireland where he leapt up from his seat and grabbed the featherweight title away from him and declared himself the one true champion at 145 pounds.
This time around, McGregor promises to be much nicer to Aldo for the sake of getting him to show up to the fight. McGregor believes if he's a kinder, gentler opponent, Aldo won't pull out of the fight this time and he can finally face him in the Octagon.
"I think I'm going to take an opposite approach and cuddle him and baby him and let him know that it's going to be OK," McGregor said. "Just get him into the Octagon -- and then I'm going to butcher him and end his career and that will be that."
McGregor also responded to UFC commentator Joe Rogan's recent comments where he called the interim title currently sitting around the Irishman's waist "illegitimate" and said he should stop carrying it around.
Never one to back down from a challenge whether physically or verbally, McGregor fired back while wondering if Rogan was just sticking with his friends at Team Alpha Male while taking shots at him from afar.
"I feel like he might be on Team Alpha Male a little bit anyways. Maybe that's got something to do with it," McGregor said about Rogan.
"What is Jose's belt? He was handed the belt when they bought WEC. He was gifted his belt. He didn't win it from nobody either."
McGregor will get his opportunity to settle the debate at UFC 194 when he finally faces Aldo to unify the featherweight title in a main event that is expected to be one of the biggest cards of 2015.